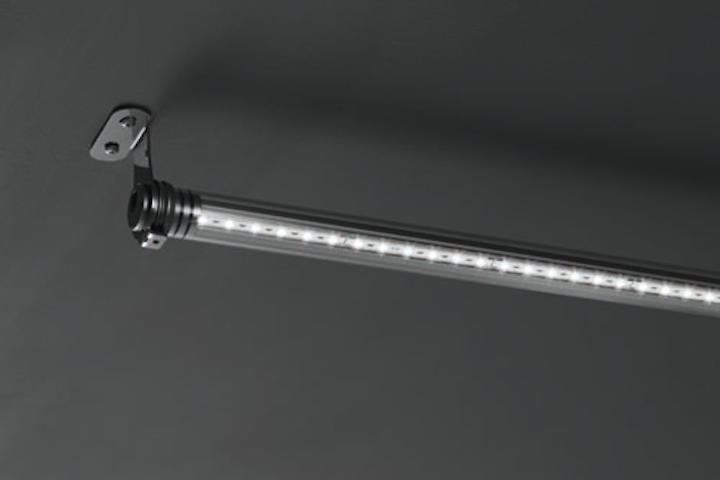 Landa Illuminotecnica, a company specialised in outdoor lighting, was founded in 1987 and developed in Lumezzane, in the province of Brescia. The skilful mix of performance and design, combined with the ability to offer minimal and linear lighting fixtures, allow Landa to achieve many successes in the international outdoor lighting sector. In the wide range of product families and the various applications, which represent the proposal of Landa, there is Tubo: the modern linearity meets maximum efficiency and innovation by Landa.
Tubo, a line of light. By creating almost geometric luminous designs, the various versions can be placed according to the needs of the project. The simplicity and purity allow Tubo to become a wall lamp, a ceiling lamp or a bollard.
Excellent linear lighting: the 180° light beam is useful for outdoor installations. Whether it is the ad hoc choice as an accent in a wall application, to light up from the above in a full way, or as a walkway option as a bollard, Tubo is well suitable to any type of project, thanks to its essential and neutral shape.
A 59 cm long 10W LED power, or a 109 cm long 20W, the colour temperature to be chosen between 3000 K and 4000 K and a high degree of protection IP67 make Tubo in its different applications ideal for the lighting of outdoor settings. The metal components are in ENAW6060 aluminium with a finish similar to anodized stainless steel, while the diffusers are available in two options for each product: luminaires with an extra clear transparent polycarbonate diffuser, for precise light design, or a combination of the extra clear transparent polycarbonate diffuser for the outside and the opal polycarbonate diffuser for the inside of the body, to create less invasive atmospheres with a soft light.
Tubo, like all the products in the range, comes Landa's desire to play with the construction of optical and geometric effects, making the spaces harmonious through light, creating a natural dialogue with daylight. The intelligent and programmed lighting technology, a hallmark of Landa, completes the lighting work with a smart touch, compatible with private and public sectors.
Precise and minimal but sinuous aesthetics, performance efficiency and, finally, easy maintenance. All the luminaires of Landa's range, in fact, are developed applying specific anti-oxidation treatments directly inside the company, a process that allows to sink maintenance operations. The high resistance to atmospheric agents and harms due to bad weather and external conditions, makes the Tubo family suitable for many design needs.
Landa Lighting is synonymous with outdoor aesthetic: with its lighting solutions completely Made in Italy, designed and produced directly in the heart of the company, it places the maximum quality, performance and distinctive design at the center of its values.
Contact:
Landa Illuminotecnica
Email:
Web site: