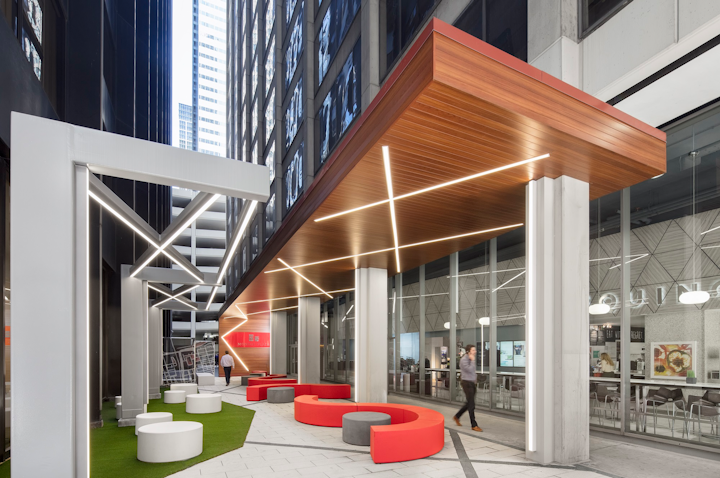 There is a cheerful little alley in the heart of downtown Chicago. It's a welcoming space with playful seating, synthetic turf and warm lighting. Its very presence, nestled between 200 and 230 W. Monroe Street, is in sharp contrast to the metal, concrete and glass of the skyscrapers towering above it.
Building owners, Accesso, had purchased the two properties from separate owners and re-branded the space as Monroe Plaza to unify the complex.  It then turned its efforts to the outdoor space between the buildings.
"It was a dark, dingy alley, populated with bicycle racks and trash cans, and a popular spot for smokers," said Paul Gaines, Managing Director Asset Management, at Accesso. "We recognized the potential to transform it into an inviting public space for building employees, nearby restaurant customers and passersby."
The concept for the Monroe Plaza Pocket Park was born, and the architects at Shive-Hattery Chicago worked with the buildings' property managers to bring it to life.
Natural light within the space was non-existent so it was crucial to provide welcoming, comfortable, and safe amounts of illumination for park visitors.
"We saw an opportunity to use lighting as a point of visual interest and attraction," said Mark Matuska, architect at Shive-Hattery. "We wanted the lighting to mark this area as a destination."
The architects collaborated with KSA Lighting and the Design Assist team at A-Light to create a unique, eye-catching lighting scheme.  The final design includes a combination of A-Light's Accoled5 (ACL5) and Accoled3 (ACL3) linear lighting.
ACL5, a recessed luminaire, is installed in a custom criss-cross pattern on the underside of a wood-like canopy that spans the length of the pocket park. ACL3, a surface mount luminaire, is mounted along an open, zig-zag concrete frame that runs parallel to the wooden canopy. Each "X" in the project's pattern is formed with one long linear fixture and two short fixtures, welded together.  When on, the striking illumination in the pattern appears seamless.
"The lighting provides a dynamic visual in the park," said Matuska. "The angled layout is intentional, to provide a juxtaposition to the rigid lines of the surrounding buildings."
The ACL5 and ACL3 luminaires are well-suited to the outdoor project for many reasons.  Because of the fixtures' slim profiles, minimal housing and versatility in installation, pattern designs are possible. 
Both direct linear fixtures feature a patented HE Tech™ lens, providing excellent distribution of light down to the casual seating spaces below.
Beyond aesthetics, ACL3 and ACL5 offer optimized thermal and optical performance. The high-efficiency LEDs will ensure low maintenance and energy costs in the years to come. And the wet-rated fixtures can withstand the rigors of the Chicago climate.
"We were drawn to these particular products because of A-Light's ability to meet our design requirements. The Design Assist team was able to provide continuous-looking linear fixtures with custom angled connections," said Matuska.
Monroe Plaza Pocket Park has become everything the owners had hoped. Tenants and passersby now take breaks and enjoy lunch in the dynamic space. It's even a safe place to take shelter during a sudden storm. The improved curb appeal has been an advantage as a value-add in current tenant leases as well as attracting new tenants.
"The park has generated some great exposure for Monroe Plaza," said Gaines. "The City has been very supportive of the transformation and snapped up the space as a pop-up venue for their Activate! Chicago summer program."
"We turned 'nothing' into 'something' and created a little oasis in the middle of the city," Gaines said. 
PROJECT NAME: Monroe Plaza Pocket Park, 200-230 W. Monroe
LOCATION: Chicago, Illinois
PROJECT COMPLETION: March 2017
ARCHITECT: Shive-Hattery Chicago
A-LIGHT LIGHTING AGENT: KSA Lighting
PHOTOGRAPHY (after): AJ Brown Imaging
About A·Light
A-Light combines advanced optical engineering with a deep understanding of architectural lighting to develop products that integrate into any space. A-Light's luminaires have been specified in tens of thousands of projects throughout North America and are known for high performance and a contemporary aesthetic that achieve balance, elegance and finesse. More information about A-Light is available at www.alights.com.
About The Luminaires Group
The Luminaires Group (TLG) is a leader in the specification-grade lighting industry. Through its unique niche brands (a-light, Cyclone, Eureka, Luminaire Led and Luminis), TLG provides a wide range of innovative lighting solutions for both interior and exterior use. Each company within TLG has a deep connection to the market segment it serves - designing, developing and manufacturing some of the industry's most innovative products.
TLG executes a strategy of acquiring companies that bring specific competences to the group and supports them in their continued evolvement. The organization leverages this combined knowledge and expertise to continuously improve process and product design, to deliver the best possible combination of cutting-edge lighting and unsurpassed support. Each brand in the group retains its autonomy and brand identity facilitating an organizational culture that is nimble and able react to its own market needs.
Trusted by architects, landscape architects, interior designers and engineers, TLG products can be found illuminating spaces throughout North America. Specified in commercial, institutional, hospitality and urban environments, TLG's luminaires have been recognized for excellence and innovation by some of the leading authorities in lighting and design. They have received many awards, including several prestigious Red Dot Awards.
Find out more about the Luminaires Group at www.luminairesgroup.com.
Contact:
Jason Broadhurst            

514-971-2514
Email:
Jbroadhurst@luminairesgroup.com

Web site: