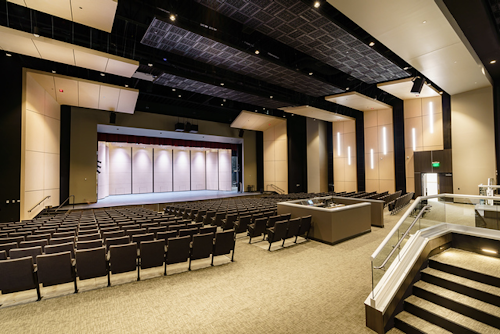 BGW Architects works with MainStage Theatrical Supply to create a modern lighting environment inside a new 734-seat Performing Arts Center using Spectra Cube and Chalice LED luminaires   
Yonkers, New York – Offering a rigorous, college preparatory education through a variety of learning opportunities, Southwest Christian High School in Chaska, Minnesota, seeks to shape both the intellectual and emotional path of each student. Originally founded in 1996, the school recently opened a new 64,000-square feet building expansion which included a new 734-seat Performing Arts Center. Wanting the aesthetics of the new theatre to be a modern interpretation of classic elegance, the design firm BGW Architects worked with MainStage Theatrical Supply and created a unique audience experience using Chalice LED downlights and Spectra Cube LED Wash luminaires from Altman Lighting. 
"This was a completely new construction project for the high school, and they wanted something that was attractive without being overly traditional," began Josh Felix, BGW Architects. "They liked the design-concept of a modern take on wood-use in the space, so we came up with the idea of putting a lighter wood finish, which we called fins, in certain areas throughout the Performing Arts Center which could then be accented with a beautiful pop of color."
As BGW Architects brought on MainStage Theatrical to envision how to create the color wash desired, they knew the solution would need to be both energy-efficient and focusable. In a modern design where the finer details mattered the most, the precise performance of the technology was paramount. 
"When speaking about the overall lighting design for the new theatre, the school felt color-changing lights would be a tremendous value-add for any type of event," explained Nic Trapani, National Director of Sales, Mainstage Theatrical Supply. "With these great architectural, wood panel elements on the walls, we worked closely with Tim Bachman at Altman Lighting to find out how we could create the ideal color wash desired and the Spectra Cube luminaires worked great."
The Spectra Cube from Altman Lighting is a 50-watt LED wash luminaire utilizing red, green, blue and amber or white LED emitters. Designed for theatrical and architectural applications, the Spectra Cube is convection-cooled to provide silent, long-term performance, and is complete with a library of pre-programmed single colors and various color mixes. The on-board power supply allows for direct power and data input which can be daisy-chained through 30 units, and the Spectra Cube is compatible with both DMX and RDM protocols.
"To keep the clean aesthetics of the theatre, we also needed a mounting solution that could hide the fixtures in a small aperture with both size and concealment being critical components to the design," added Felix. "We now have approximately 20 Spectra Cube luminaires, with barn doors, which are suspended down with a threaded rod and Unistrut connection to within a foot of the backside of each fin. The fixtures all tie back into a DMX lighting console and each is also individually addressed, so the school can create virtually any color combination desired."
Turning their attention to the house lighting system for the new theatre, the school also wanted to extend the theatrical lighting capabilities into the audience. Desiring an audience experience that was both unique and energy-efficient, they chose a new system filled with over 50 Chalice LED downlights.
"During the budgeting exercises, it was determined that we needed to find a white light solution that would allow us to cut some fixtures from the original electrical drawings, while still achieving a better lumen output," explained Trapani. "After we conducted our photometric studies, we now have a mixture of both recessed and pendant Chalice 70W downlights throughout the theatre to create a perfect luminescence within the space."
The Chalice LED Series is the most diverse range of downlights available with mounting options that include pendant, recessed, aircraft cable, wall and yoke mount; and dimming choices ranging from Mains Dimming to DMX. Also available with a wide variety of LED color or white light options, plus numerous lens or reflector choices, the Chalice LED Series is the most versatile and easy to integrate downlight solution available today.
"As the integrator on the project, we tested, addressed and lensed all the Chalice fixtures prior to passing them on to the electrical contractor," continued Trapani. "One of the advantages to having such a user-friendly solution is that we were able to really take our time with each fixture and dial-in the exact lensing option to get the most out of the design."
With all the fixtures now in place, the new lighting design at the Southwest Christian High School theatre was ready to be unveiled. Understanding the original design-mandate for a unique and memorable audience experience, the final design certainly did not disappoint.
"I was able to visit the school about a week after the final installation and commissioning, and they are very excited about how different the space feels when lighting up the house and splashing color on the fins," concluded Felix. "Both MainStage Theatrical and Altman Lighting did a great job of working side-by-side with us to get the lights set up in the right way to provide the optimal beam spread, and it's amazing how you really feel immersed in the performance. It is definitely one of the highlights of the design."
Built on quality and excellence, Altman Lighting is one of the leading innovators of theatrical, architectural, film and video lighting today. Founded over 65 years ago by Charles Altman on the philosophy of providing top-quality products at an affordable price, the company and family have continued on with that vision through state-of-the-art product innovations and economical lighting solutions. Our experienced design and engineering team has created a family of luminaires that both enhance and illuminate the lighting environment with fixtures that range from incandescent to LED technology. To find out more about the complete Altman Lighting product line visit www.altmanlighting.com, follow us on Twitter or find us on Facebook.
Contact:
Nicolas Champion
Altman Lighting
Vice President of Sales and Marketing
949-351-2678
Email:

Web site: