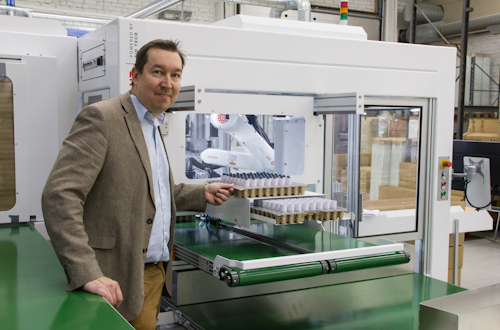 Have you heard that the world's possibly most durable LED tubes are made in an ultramodern factory in Kajaani, a small city surrounded by the vast Finnish forests? Or that a trailblazer company of the LED field, Valtavalo, has been growing in this small city for over a decade, never afraid of doing things differently than its competitors and always using their own strengths to compete against the field's giants and products manufactured in China?
The company's history started as early on as the 1990s when its future founders, Laatikainen brothers, were still entrepreneurs in their previous companies in the IT field. "We often sat in the sauna together and talked about maybe setting up a business together, coming up with various ideas. Years later, we came across LED tubes online by chance and knew that this was it," says Markku Laatikainen, who still steers the company as its managing director.
"When I moved from Kajaani to Oulu to study and, later, work, my supervisor at the job I had at the time praised me for moving, saying that Kajaani is a dying town and that the last one to leave should switch the lights off on their way out," Laatikainen says, laughing, and comments that this phrase remained in the back of his mind for a long time. Maybe it was still in the mind of the brand new Managing Director Markku Laatikainen years later, when the company manufacturing LED lights was established in Kajaani under his command, and when their robotised assembly plant started in the premises of an old paper mill a few years later.
Valtavalo has specialised in replaceable LED light sources, more specifically in LED tubes. The company manufactures LED tube products under their own brand, but they also subcontract for several other companies. The automated assembly lines put together LED tubes for general lighting as well as according to special requirements. Both of the lines are able to manufacture the most common tube sizes from 45 cm length up to 150 cm. "We have two basic designs for tube products and these can then be customised based on the customer or their requirements. The automated lines are perfect for manufacturing LED tubes used for growing plants, for example, since it basically only takes changing the LED component of our product," Laatikainen describes.
One of Valtavalo's guiding principles has been to offer the key strengths of integrated LED lights in the form of a replaceable LED tube, and this is something professional lighting markets value. "Today, long service life or warranty time, intelligent lighting control or tolerance to high temperatures are no longer exclusive to integrated LED lights.
Establishing a company during the financial crisis, in 2008, and leaving behind a good job to do so may sound like madness to some, but for Laatikainen brothers and Tuukka Prykäri, a doctoral researcher at the University of Oulu, it seems to have been self-evident. The company's decision to focus on replaceable LED tubes in their product portfolio at a time when rest of the professional lighting market swore by integrated LED lights was yet another source of wonder in the field. However, people have been most confused about keeping the production operations in Finland, 'on the edge of Europe and far from everybody else'. All of the decisions above sound unreasonable, and from some perspectives this may even be true, but the company's philosophy has always been to stand out on the market. Perhaps surprisingly, these bold choices have offered other competitive advantages aside for being different, such as several financial and logical arguments. For now, Valtavalo has mostly served Nordic customers, so producing the high-quality products in a Nordic country has been well-founded. The availability of high-quality manufacturing materials from nearby areas has also been possible. And when it comes to the price of labour, using a robot costs practically the same in Finland as it does in China. "Focusing on standardised, easily replaceable light sources, such as LED tubes, was a decision made with common sense. Tube-type lights have been sold for near a century, so people are familiar with their usability, and the long-term maintenance costs of a replaceable tube are often significantly lower to customer when compared to integrated LED lights," Laatikainen summarises.
For now, the company's bold choices have borne fruit; Their net sales have grown for ten consecutive years and now, after heavy product and production investments and two challenging years, it seems that profitability seems to be improving again. People in Kajaani seem to have a silent understanding about the whole thing: this is how it was supposed to go.

Brief History of Valtavalo Oy
2008    Valtavalo Oy is established
2012    The first fully automated assembly line for the manufacture of possibly the world's most advanced LED tube of its time, Valtavalo's G series
2013    The company is accepted into Tekes' Young Innovative Company growth programme
2014    The company wins the Kainuu regional series and receives an honorary mention at the national start-up competition Kasvu Open
2016    Valtavalo is listed as one of the first companies on Sitra's (The Finnish Innovation Fund directly accountable to the Finnish Parliament) 'The most interesting companies in the circular economy' list
2017    The first OEM production contracts for plant growing and antibacterial LED tubes
2018    Second fully automated assembly line for the manufacture of the new, more affordable E series LED tube product family, specifically intended for new sales channels.
2019    After the new line investments, the company's own total production capacity is, at the moment, more than 1,000,000 LED tubes a year. The lines' combined capacity can be further doubled from the current one with fairly small changes, enabling a turnover of over €30 million.

Valtavalo in a nutshell
Company    Valtavalo Oy
Location    Factory & domicile: Kajaani, Finland
Finnish HQ: Oulu, Finland
Branch office: Gothenburg, Sweden
Business sector    Manufacture of LED tubes
Established in    2008
Net sales    about €4 million, around half of which from export (net sales have grown every year for ten years)
Employees    about 25

Contact:
E-mail:
Web site: