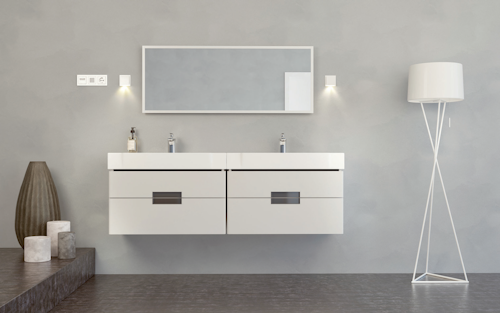 Gira, one of the world's leading full-range suppliers of intelligent system solutions for building management, announce the Gira System 55 modular system is now able to yield even more design options thanks to Gira Studio, a dynamic intelligent control solution in three installation variants and Plug + Light, a new specification product which unites light control and power supply.
Enabling premium specifiers like interior designers, architects and property developers the ability to equip buildings with the latest technology, Gira System 55 now offers a range of new and contemporary design aesthetics, which provide a greater distinction between the varying systems, controls and functions in operation.
Offering more than 300 functions, Gira System 55 can now be specified in the leading edge designs of Gira Studio, where each frame in the collection displays precise workmanship and surface processing.
For those looking for a streamlined, ultra-modern aesthetic, Gira recommend its Flush Mounted solution – a contemporary design with sleek attributes accentuated by a lustrous glass cover frame. Gira Studio Flush Mounted frames can be used for single or multiple installations, either horizontally or vertically.
In contrast, for a more traditional look, Gira recommends its Surface Mounted design which is available in high-quality glass or shatter-proof thermoplastic. The period-style design takes its inspiration from the historically round dome light switches so popular in the early 20th century.
It can be installed as a single solution for controlling the lights but again is also ideal for multiple installations, both horizontally and vertically. It thus offers endless design options and a virtually unlimited variety of functions in the Gira System 55.
Meanwhile, Plug + Light makes indoor lighting smart and light control incredibly simple. Plug + Light is a defined interface which unites light control and power supply. Combined with appropriate light top units, Plug + Light offers easily controllable indoor lighting – from dimming to warm dim. The open system can be used in the most common flush-mounted device boxes, also in British Standard, and besides the controller, it reconfigures the handling of the associated light top units
The installation of a Plug + Light lamp is designed to be incredibly simple – the lamps are docked to the light socket outlet via a convenient and powerful magnet. Once inserted into the Plug + Light socket outlet, each lamp can freely rotate 360° and even be replaced during operation.
Providing even more design options, the Plug + Light socket outlet can also be designed in the style of Gira E2, Gira Esprit and Gira Studio, giving you greater choice and design freedom.
Mark Booth, Managing Director, Gira UK comments "Both our Gira Studio Design Line and Plug + Light series allow smart technology to be more easily accessible to the end user. We achieve this through leading edge design and applied methodology that is designed to enrich lifestyles and contemporary built environments."
"Taking the Gira System 55 modular system to new levels of design, both Gira Studio and Plug + Light is able to support more than 300 functions so flexible indoor lighting and blind control for example, can come to life for the end customer with ease: as well as provide an infallible solution for professional electricians, installers and system integrators."    
Products:
Gira Studio Flush Mounted White Glass, 2-gang multiple installation sockets white glass
Gira Studio Surface Mounted Black Glass, Touch sensor 3 Basis for switching, dimming, blind control, and encoder and scene auxiliary unit functions
Plug + Light Spotlight Gira E2 Black Matt (a) Perfect lighting for reading and dreaming, with Plug + Light spotlights in the design line Gira E2 black matt
Plug + Light Wall light Gira E2 Black Matt (b) Flexible lighting for task and mood illumination thanks to Plug + Light wall luminaires with 360° rotation in the design line Gira E2 black matt
Plug + Light Wall lights Gira E2 Pure White (1) Bathroom Highlights in the true sense of the word with Plug + Light wall luminaires with 360° rotation in the design line Gira E2 pure white glossy
Plug + Light Wall lights Gira E2 Pure White (2) Mood lighting ensures atmosphere and security, with a series of Plug + Light wall with 360° rotation luminaires in the design line Gira E2 pure white glossy
Photo: www.gira.com
About Gira

Gira Giersiepen GmbH & Co. KG (www.gira.com) has its headquarters in Radevormwald and is one of the leading full-service providers of intelligent system solutions for electronic and interconnected digital building management. With its numerous developments, the family company has been shaping and influencing the world of electrical installations and building management since it was founded in the summer of 1905. Gira has been a key driving force behind the forward-looking development of intelligently networked "Smart Building Systems" and the digitalisation of buildings from the very beginning with its many developments, including the Gira HomeServer. Products and solutions from Gira are characterised by German engineering, "Made in Germany" quality, sustainable manufacturing processes and operations that have as little impact on the environment and on resources as possible, for perfection in form and functionality - but above all by the fact that they make people's lives easier, more comfortable and more secure. That is why switches and control, communication and security systems from Gira can be found in around 40 countries across the globe, including in the Elbphilharmonie in Hamburg, in the Olympic Stadium in Kiev, in the "Messner Mountain Museum: Corones" in the South Tyrol and in the Banyan Tree Hotel in Shanghai. Thanks to its extensive expertise in the field of plastics technology, Gira also manufactures complex system products out of plastic for the medical technology sector. The Gira Group includes the subsidiary Stettler Kunststofftechnik in Untersteinach near Bamberg, as well as its stake in Insta Elektro in Lüdenscheid, the software company ISE in Oldenburg and the start-up company Senic in Berlin. Together, around 1,700 members of staff generate an annual turnover of more than 330 million euro.
Contact:

Gira

E-mail:
Web site: