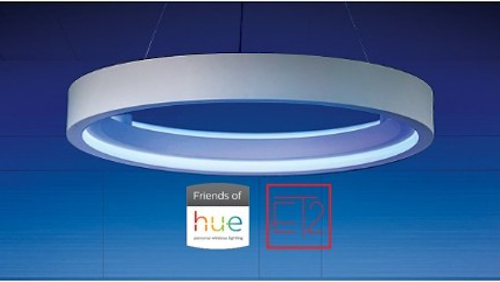 City of Industry, CA - ET2 Lighting, a leader in the lighting industry, is one of the first manufacturers in North America to integrate Philips Hue's smart lighting technology into a line of decorative luminaires.
"Our new collections focus on bringing design-focused lighting concepts into the new area of smart technology," says Maxim Group Companies CEO Jacob Sperling. "With Philips Hue, our customers can control and personalize their lighting however they see fit. This is the direction of the market, and we've designed beautiful fixtures incorporating Philips Hue's technology, so our customers have a larger selection of lighting fixtures to complement their smart homes."
Philips Hue is the world's leading smart lighting system for the home. Use the Philips Hue app on your smartphone or tablet to wirelessly control and personalize your lighting. Create the perfect atmosphere or complement your home décor with any shade of white or color light. You can also control your lighting when away from home for greater peace of mind, support your daily routines and help you to get a better night's sleep, as well as take your home entertainment experience to the next level with access to millions of colors. In addition to the Hue app, you can control your Hue lights with a wireless switch or hands-free with the Hue motion sensor or by commanding your favorite voice assistant. To get started with ET2's Friends of Hue products and enjoy what smart lighting can do, you simply need the Philips Hue bridge. 
ET2's new Friends of Hue collections include:
iCorona – The Philips Hue lighting is encased inside a dual matte white ring. Change the color temperature, dim the light and enjoy a wide variety of pre-set, colorful scenes.
iQ - Finished in Brushed Black and fitted with a custom formed diffuser that evenly diffuses the light.
iWood - Rectangular solid wood frames with stainless steel trim in your choice of Wenge with Polished Chrome or Antique Pecan with Brushed Champagne.
iBar - Featuring aluminum channels anodized in your choice of Brushed Aluminum or Brushed Black. The pendants support a solid block of Clear acrylic, which creates a dramatic lighting effect.
About ET2 Lighting
With over 6,000 products, ET2's growth and success stems from one simple, but enduring concept— treat customers and employees like family, and never settle for less than excellence. This philosophy attracts the industry's finest designers, engineers, and manufacturers each dedicated to creating innovative lighting solutions best described as functional art.
Contact:
Adena Sperling, ET2 Lighting
253 N. Vineland Ave.
City of Industry, CA 91746
(626) 956-4200 Ext.2110
Email:
Web site: