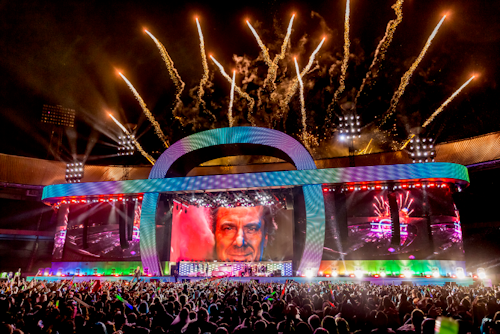 Dutch popstar, Marco Borsato, recently returned to Rotterdam's De Kuip stadium for the first time in 15 years to host a five-date concert series featuring an ambitious lighting and video programme that turned De Kuip into a stage to rival all venues. The 50,000-capacity stadium was fitted with a massive 85 x 15 metre rear wall screen as the backdrop to Borsato's band and featured an innovative display of lighting and augmented-reality (AR) video images.
Commissioned by Musica è and Mojo Concerts, Faber Audiovisuals supplied the LED screens, play-out, camera, and video facilities, with Visual Solutions and Malfmedia developing the AR and 3D video design, and disguise programming. Faber selected more than 1,000 square metres of ROE CB5 LED screens, four kilometres of ROE LED strips, and 21 cameras, with the strips managed by just seven Brompton Technology Tessera SX40 LED processors.
"4000 strips is arguably the highest number ever deployed in one single show to date. With numbers this large, when you start doing the pre-production and planning the infrastructure, only one thing comes to mind: 'How do we set up so that if a problem occurs, we can resolve it easily?" explains Joel Schilder, project manager at Faber. "With Brompton processors, you have the ability to use layers and groups, enabling us to separate large parts of the set into smaller blocks or even string level. This made it very convenient for us to keep a clear overview of what was going on during the show, because you can turn layers on or off and focus on what you're working on."
One of the biggest challenges of the show was to develop a content story on such a large canvas. The 15808 x 1872 pixels resolution screen displayed edited live feeds of the concert each night, complemented with overlays of animated Luma mattes and effects. Some songs comprised more than 100 video layers, controlled separately and synchronised with the show lighting on the DMX desk. The concert was also full of impressive AR visual effects, right from the opening sequence when a virtual Marco Borsato walked on to De Kuip's eaves and dived onto the stage.
Brompton's SX40 LED processor offers a multitude of features, such as support for full 4K screens at 60Hz with 12 bits per colour output, a zero-latency up/down scaler that matches the source to the screen, plus all of Tessera's industry-leading processing features such as ChromaTune colour correction and On Screen Colour Adjustment (OSCA). Combined with the Tessera XD distribution unit, a sophisticated single box solution designed to manage the complications of mass cabling that can arise with large LED display systems, the SX40 provides a cost-effective yet powerful system that will support the biggest and boldest LED projects.
"Not only did the Brompton team provide great support," Schilder concludes,"there's no other processing software I can think of that could have accomplished what was needed for that show, which was at the technical and creative cutting edge."
ABOUT BROMPTON TECHNOLOGY
Brompton Technology is a specialist manufacturer of video processing products for live events. Its Tessera system is the market-leading processing solution for LED video walls, used for high-profile events ranging from the Academy Awards (Oscars) to tours by acts like Ed Sheeran, U2, Roger Waters and One Direction. Established in 2012, Brompton Technology is part of the Carallon group of companies based in West London. It operates in the rapidly expanding LED Video display sector, and product designs come from years of industry and engineering experience, and an acute understanding of the current marketplace. Brompton Technology has fast become a globally known and respected brand within the LED video industry, and most recently featured as one of the top one hundred private technology companies in The Sunday Times Tech Track 100 league table.
Contact:
Joanna Muggeridge, Group Marketing Manager
+44 (0) 207 471 9419
Email:
Contact: