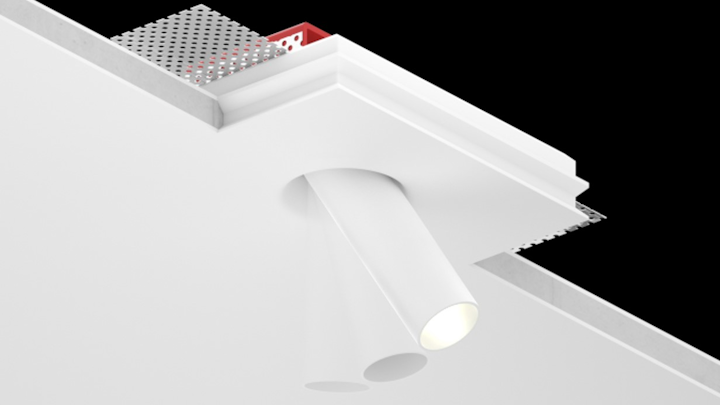 A WINNING BLEND BETWEEN KNOW-HOW AND EXCLUSIVE DESIGN
Buzzi & Buzzi, a leading company in the lighting sector based in Lombardy, is at the forefront of the lighting industry for its proposal that offers a unique blend of design and efficiency that allows you to shape light according to design needs. Attentive to demands and languages of the contemporary world, Buzzi & Buzzi produces outdoor and indoor products characterized by a clean and linear style, outlining unedited concepts of light through its objects. This time, the brand's range of products is extended thanks to Inzeta, the novelty of the year. 
Inzeta, a new recessed totally disappearing indoor luminaire is designed to combine intelligent light and well-being. In fact, it's equipped with an aluminium half-recessed projector on an AirCoral® body, with invisible mechanical joints. Inclinabile at 35° and adjustable on the vertical axis at 360°, Inzeta offers light quality thanks to a high colour rendering index, a LED source and an IP40 protection grade. The result is a compact luminaire, capable of combining the peculiar characteristics of the total disappearance of the body with those of a miniature projector that can provide light where needed. The quality of light and excellent performance merge. 
AirCoral® technology, used to design Inzeta, involves the evolution of Coral®, a material composed of a combination of natural minerals and aggregating elements which make it extremely resistant to high temperatures and thermal shock. As a plus, in addition to the Coral® base which is eco-sustainable, biocompatible, non-toxic and repellent to dust and UV rays, AirCoral® becomes an eco-active, anti-polluting, anti-bacterial and photocatalytic material. AirCoral® exerts its action even in the absence of light, purifying the air and making the areas where it is installed significantly healthier. The sensation to the touch is smooth and velvety. The exclusive material is patented by Buzzi & Buzzi. 
Buzzi & Buzzi re-defines spaces through lighting solutions that meet the needs of the most various structures, going beyond the concept of zero impact and ensuring the improvement of the air quality in inhabited spaces. Recessed luminaires, such as Inzeta, make it possible to achieve highly technical performances, chosen by designers and confirmed by the company's position at national and international level. Buzzi & Buzzi is lighting aesthetic that doesn't give up but rather focuses on the importance of clients' well-being in every space.
TECHNICAL FEATURES
Body in AirCoral® and aluminium projector

Available with white and black finishes

IP40 protection grade

Light inclination: 35° and adjustable on the vertical axis at 360°

Dimensions 125 x 100 mm (4.92" x 3.94")

Ø 23 mm (0.90") projector

22°/50° lens (on request)

COB professional LED source - LED 6W 500mA 130 lm/W

LED colour temperature: 3000 K (on demand 2700 K - 4000 K)
Contact:
Buzzi & Buzzi
Email:
Web site: