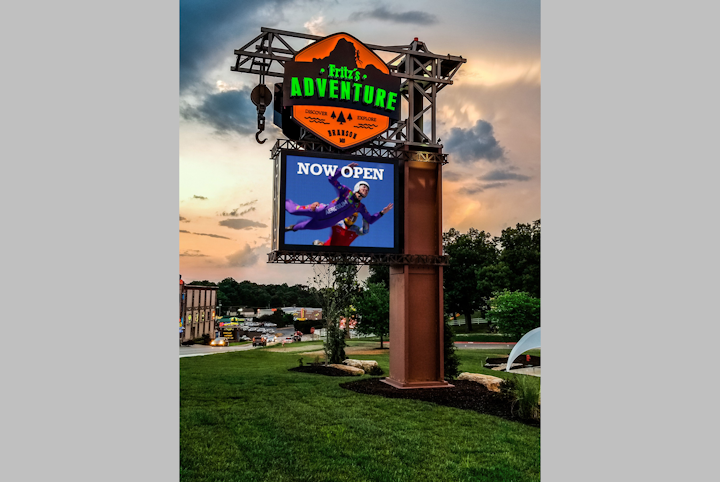 DANVILLE, Ill. — Fritz's Adventure, a dynamic family attraction located in the bustling vacation destination of Branson, Mo., opened its new 80,000 sq. ft. adventure facility with a sign that features a digital message center from Watchfire Signs. Fritz's uses the sign to advertise its various adventures, including rock climbing, tunneling, sliding, and zip-lining thrills, along with its restaurant and party facilities.
"An integrated digital message center helps visitors to better understand all the various experiences available at the facility through the use of captivating video and colorful messages," said John Vaughn, Chief Marketing Officer at Fritz's Adventure. "We also use the sign to communicate various promotions. It really makes Fritz's Adventure stand out in a crowded marketplace."
Fritz's partnered with Springfield Sign of Springfield, Mo., to design its new sign, and directed the company to create an "industrial look" for the sign. Springfield Sign designed a backlit, double face custom pylon with flush mount lighted channel letters. The sign appears to be suspended on a crane-like structure, and features back-to-back 12mm 8' x 10' color digital message centers from Watchfire Signs.
"When designing the sign for Fritz's we knew that we needed to incorporate an electronic message center in order to compete with the glitz of all of the other signs on Highway 76," said Lisa Watts, customer service manager at Springfield Sign. Fritz's Adventure is located on heavily-traveled Highway 76, also known as "76 Country Boulevard" in Branson, where the facility competes with a slew of businesses advertising for the family vacation dollar, including nearby Dolly Parton's Stampede and Dick Clark's American Bandstand Theater.
"Fritz's is competing with hundreds of businesses along Highway 76 in Branson, so we need a sign that looks great and works reliably," said Watts. "We have installed hundreds of Watchfire signs across the country and have found them to be extremely reliable."
The Fritz's Adventure sign earned Springfield Sign the Grand Prize in the 2019 Watchfire LED Sign Awards, a program established in 2014 to recognize Watchfire dealer partners who best showcase the capabilities of outdoor digital advertising.
About Watchfire
Watchfire Signs designs and engineers the best looking, most durable outdoor LED signs and digital billboards, which help businesses and organizations increase visibility and drive growth. Headquartered in Danville, Ill., Watchfire has manufactured electric signs since 1932 and LED signs, using meticulously sourced components from around the world, since 1998. The company has more than 60,000 Watchfire LED signs in operation worldwide and has more digital billboard customers in the U.S. than any other brand. For information, go to http://www.watchfiresigns.com.
Contact:
Linda Muskin
Clarus Communications - for Watchfire Signs
847.432.7300
Email:
Web site: