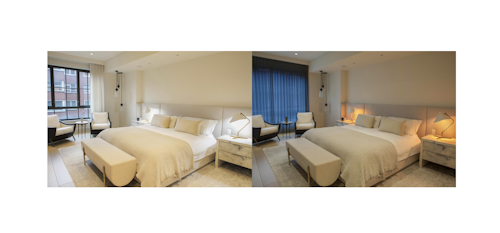 Circadian Lighting Solutions Set The Mood And Create Healthy Environment
July, 2019 (New York, NY) — Healthe® by Lighting Science, a biological lighting company specializing in the enhancement of human health, recently collaborated with interior designer Jessica Gersten to install SunTrac™A19 and JOURNI lights into an upscale apartment project on New York's Upper East Side. SunTrac is the first bulb that combines Healthe's sleep-enhancing GoodNight® spectrum and GoodDay® energy-enhancing spectrum, easily replacing traditional lighting with healthy circadian lighting.
Interior designer Jessica Gersten has happily embraced the circadian lighting technology, choosing the latest bulbs on the market for her latest project.  SunTrac's three presets -GoodDay, Afternoon and GoodNight - mimic the phases of daylight to support a regular wake-sleep cycle for improved health and well-being. In effect, it is a 24 hour light bulb, providing the correct spectrum of light for the time of day. To fully enable spectral control capabilities, including dimming and intensity, SunTrac can be paired with Healthe's wireless switch.
SunTrac can also be automatically synchronized with the sun, with the recently launched Healthe SunLync™, a location and time GPS tracker that synchronizes your lights to the sun at any given location. The Healthe App can also be used in place of the wireless switch, or in combination to control an entire home of lights at your fingertips.
"Healthe lighting enhances and interacts with the interiors that I created," says Jessica Gersten, interior designer. "In my projects, light plays a major role, and the light shifting from morning to dusk and then night effects the whole house's sense of comfort."
Healthe lighting products are designed with proprietary, engineered spectra technology to deliver circadian wellbeing for occupants of the built environment.  The GoodDay® spectrum is blue-enriched at 480 nanometers (nm), which is the peak wavelength for the body's circadian sensitivity. GoodDay® simulates the blue in natural sunlight, helps to increase our alertness and has the potential to improve productivity during the day. The GoodNight® spectrum, which is blue-depleted at 480 nm, promotes the body's natural response to sunset. A recent Harvard Study show that GoodNight technology enables a better nights' sleep relative to conventional lighting.
More information about SunTrac can be found at https://healthelighting.com/pages/suntrac-ecosystem.
About Healthe, Inc.
Healthe is the leading provider of circadian and biological lighting solutions whose proprietary line of commercial and consumer products help regulate your body's circadian clock, boost performance, enhance sleep and improve air quality. Learn more at www.healthelighting.com and join us on Facebook, Twitter, LinkedIn and Instagram.
Contact:
Healthe
877.999.5742
Email:
customerservice@healthelighting.com
Web site: