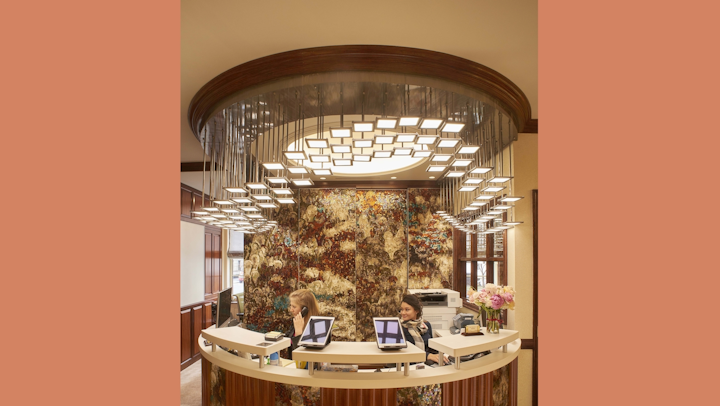 New York, New York--- Don Kossar was designing the plush dental office of Dr. Pasquale Malpeso on Manhattan's famous Park Avenue when he envisioned OLED fixtures encircling the reception desk and arching down the entry staircase.  Mr. Kossar, principal of Don Kossar Interiors, designs residential and commercial spaces and teaches at The New York School of Interior Design.
Mr. Kossar selected 2nd Ave Lighting as the perfect choice to manufacture the custom lighting fixtures. OLEDs were the only type of lighting that could achieve his design vision as they produce no heat, no lamps have to be changed, and they are thin and small enough to accomplish his plan. The light they produce is probably the best you can buy.
Max Cohen, Marketing Director of Hospitality Lighting for 2nd Ave Lighting, reviewed the design that Mr. Kossar had in mind and was quick to say the company would take on the task of designing a lighting system that had not  previously been constructed. "2nd Ave Lighting was the only firm willing to take on the project and did a fantastic job," explained Mr. Kossar. "Using sustainable lighting was a major consideration. The idea of not having to store lamps and change them constantly was absolutely necessary. Lamps take up valuable space and finding people to change them is costly.  OLEDs fit the bill perfectly. The thought of having lights that will not have to be revamped for 20 years was a great selling point."
The chandeliers feature an array of OLED panels displayed at varying heights and embraced by metal tubes connected to the ceiling. The 113-inch long fixture above the reception area renders a semi-circle style with 188 unique integral OLED ultra-thin panels. Illuminating the stairway is an 80-inch OLED fixture featuring 100 panels in a unique wave pattern. The luminaires dim beautifully with various controls to create a broad spectrum of light. The OLED luminaires deliver a very high Color Rendering Index (mid-90s CRI), while providing energy efficient 4000K illumination without glare from a flat source. The elaborate hardware is featured in a stunning Alloy Wheel Clear Coat finish.
"The OLED fixtures make a dramatic design statement while providing beautiful light above the reception desk and the entry staircase," continued Mr. Kossar. "The luminaires actually become lighting sculptures on the ceiling of the space. People are awed by the fixtures-- they have never seen anything like it and ask where the bulbs are.  In addition to compliments from patients and visitors, the employees love the light and the design."
Mr. Kossar continued, "2nd Ave Lighting had the courage to take on the new technology and design to make my design vision a reality. It was a pleasure working with the entire organization—they are an outstanding group of lighting design/engineering professionals. They did a great job."
About Don Kossar Interiors
At Don Kossar Interiors, Good design functions are individually conceived and executed. Every problem has its own solution and the envelope is as important as what goes into it. This is the design philosophy that has guided Don Kossar Interiors since its inception in 1995. Don Kossar graduated from The New York School of Interior Design with a BFA in 1995. After graduation he started his own firm and was asked to join the faculty of The New York School of Interior Design. Each project's design is based on the client's needs and lifestyle, however, it is most important that the client's dream become the reality. For more information, visit donkossarinteriors.com or call 212.369.4967.
About 2nd Ave Lighting
2nd Ave Lighting is your One Stop Shop for luxurious custom lighting. The company's facility includes a full team of engineers and nearly every manufacturing process under one roof. Quality, aesthetics and lead time control is its specialty. No project is too large or complex.2nd Ave Lighting is headquartered at 55 Oriskany Boulevard in Yorkville, New York.
Contact:
2nd Ave Lighting
Email:
Web site: