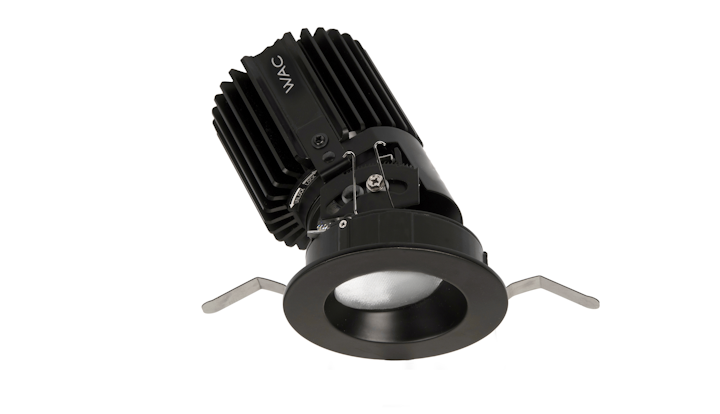 Port Washington, New York – Engineered with a small aperture and equipped for strong performance, the 2" Volta LED Recessed Down Light from WAC Lighting is loaded with a multitude of features and superior glare control for optimal specification. The ultra-compact luminaire offers countless possibilities with six architectural grade finishes, selectable outputs up to 1600 lumens, four beam angles and your choice of trims.
Crafted in die-cast aluminum for lasting quality, the entire assembly is designed for perfect installation and optimal performance. Volta features a single piece die-cast aluminum self-flanged trim, complete with round, square, trimmed and trimless apertures, and lumen output options, which are individually specifiable. The flexible, controllable platform employs universal voltage with reverse phase and 0-10V dimming included, standard. Tool-less serviceability of the driver and replaceable LEDs promote sustainability.
Vertical and horizontal lockable hot-aiming adjustment  allows the optimization of light position in accent or sloped ceiling applications and can be tailored to the application using up to two glare control lens accessories, as well as optic and colored lenses.
A universal input voltage ranging from 120V-220V-277V, with a choice of 15w and 22w will meet today's demanding energy codes and power consumption needs. Wet location listed, it features optimized cut-off for superior glare control and visual comfort, with field interchangeable optics and beam spreads which include 12° spot, 25° narrow, 40° flood and 60° and wide.
As a downlight, Volta provides general illumination and as a shallow regressed down light it offers increased field angle for reduced scalloping, perfect for low ceiling and close to the wall applications. Its adjustability features a center beam alignment retained throughout adjustment range with precision aiming-- 0°- 45° vertical and 365° horizontal lockable hot aiming.
An innovative bi-directional spread lens with a patent-pending design is engineered for even wall illumination for both horizontal spread with even coverage for greater fixture spacing and vertical spread for illumination from top to bottom of wall.  This high lumen family of fixtures enables lighting designers an advanced system for a clean, uncluttered ceilings with die-cast Invisible Trim spackle frame options in high illuminance retail, hospitality and residential applications where comfortable ambiance is desired.
Specify optional IC airtight new construction housing or a remodeling Non-IC housing. Trim assembly includes light engine, optics, and lensed trims. ETL and cETL listed, Energy Star qualified and Title 24 California rated. Chicago Plenum and Emergency backup are available. Available in six finishes: White, Haze, Haze/White, Black/White, Black, and the new Copper Bronze.
About WAC Lighting
WAC Lighting believes that a key part of being a Responsible Lighting company is to provide a product offering that is progressive in both design and technology. Groundbreaking innovations in LEDs, materials engineering and creative optical design are paving the way for endless possibilities. With over 100 engineers on staff across four factories in the US and China, WAC puts creative and forward thinking minds behind solving the most challenging lighting needs with lighting technologies. All designs are thoroughly tested in internationally recognized NVLAP, UL and ETL certified testing laboratories for safety, durability and robust long-term performance far beyond required standards.With over 1 million square feet of fabrication and manufacturing capabilities, WAC offers an industry-leading infrastructure that turns concepts into fast to market products. As a family owned business WAC chooses to manufacture products responsibility with zero landfill impact and help to preserve the planet for our children and grandchildren. Its merit-based mission is to build the most respected lighting company and be a shining example of American ingenuity.WAC Lighting Global Headquarters is located in Port Washington, New York, with Factories in New York, Ontario, California and Atlanta, as well as China.
Contact:
WAC Lighting
1.800.526.2588
Web site: