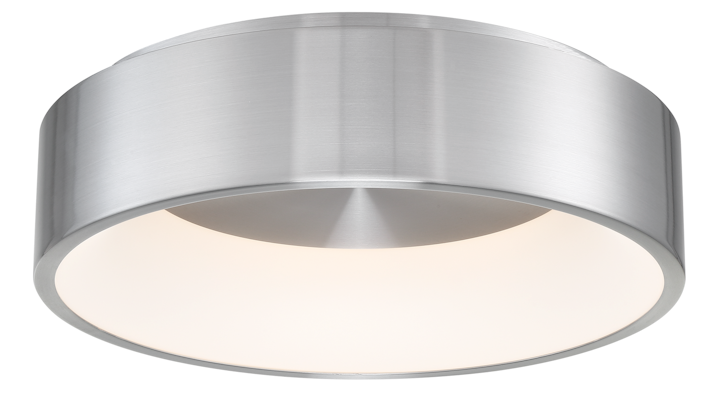 Port Washington, New York –  The new Corso LED ceiling mount by dweLED by WAC Lighting is a promenade of light delivered through a self-illuminating halo within. A frosted acrylic diffuser conceals the high powered LEDs within the spun metal shade.
The Corso LED luminaire features a simple and minimalistic design. Corso offers even illumination with no hot spots.
The fixture is perfectly at-home in areas like lobbies, living rooms and other large areas of commercial or residential spaces.
This fixture is dimmable with an ELV or 0-10V dimmer. Corso has a universal driver (120V-220V-277V) that is concealed within the canopy. The luminaire delivers up to 728 lumens.
A brushed aluminum finish is offered.
The 18 and 23 inch sized models are available.
The luminaire is Title 24 Rated. A matching ceiling pendant is available.
About dweLED by WAC Lighting
The dweLED collection from WAC Lighting is all-LED technology driven with a design fit for residential, commercial and healthcare spaces. WAC's dweLED has merged a contemporary and transitional style with functional, energy efficient indoor and outdoor lighting that you will love. mid-upscale homes with transitional home décor, multifamily high-rise buildings or assisted living residences. The dweLED collection has options to meet both indoor and outdoor LED lighting needs. dweLED offers nostalgic design elements, beautiful and visually interesting hardware with quality finishes and substantial illumination.
About WAC Lighting
Fueled by a passion for creating, WAC is a second generation family owned and operated lighting company with a reputation for quality spanning over 35 years. With a history of inventing and looking at things from a fresh perspective to make technology leveraged products widely accessible, WAC Lighting believes that a key part of being a Responsible Lighting company is to provide a product offering that is progressive in both design and technology. Groundbreaking innovations in LEDs, materials engineering and creative optical design are paving the way for endless possibilities. With over 100 engineers on staff across four factories in the US and China, WAC puts creative and forward thinking minds behind solving the most challenging lighting needs with lighting technologies. All designs are thoroughly tested in the company's internationally recognized NVLAP, UL and ETL certified testing laboratories for safety, durability and robust long-term performance far beyond required standards.
With over 1 million square feet of fabrication and manufacturing capabilities, WAC offers an industry-leading infrastructure that turns concepts into fast to market products. But above all WAC is a company that cares about employees, products, and reputation and clients. As a family owned business WAC chooses to manufacture products responsibly with zero landfill impact and helps to preserve the planet for our children and grandchildren. Its merit-based mission is to build the most respected lighting company and be a shining example of American ingenuity.
WAC Lighting Global Headquarters is located in Port Washington, New York, with Factories in New York, California, and Georgia, as well as China.
Contact:
WAC Lighting
1.800.526.2588
Web site: