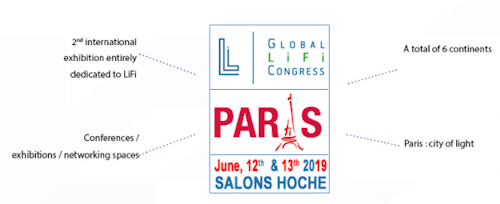 Challenges for the future:
5G, WiFi, Bluetooth network saturation
A solution: LiFi
Both Lifi's scientific, and economic leaders will gather together to establish a valid timeline to determine the future of this new technology, which promises to revolutionize connectivity, as it pertains to IoTs (Internet of Things).
The Global LiFi Congress® will take place on the 12th and 13th of June 2019 at the Salons Hoche, near the Arc de Triomphe.
There will be numerous business, and scientific conferences, a trade show, a networking space. There will also be one to one meetings.
To promote the technological revolution that is LiFi.
Enabling all of the scientific and economic players to share their vision in terms of the innovation of, and the applications for, LiFi.
Numerous economic and scientific figures in attendance
More than 20 conferences presented by the most renowned experts
6 continents represented
LiFi: a technological revolution
LiFi is a wireless communication technology based on the use of spectrum light.
Light Fidelity, widely known as LiFi is a high speed bi-directional network, for mobile communication of data using light. LiFi is comprised of multiple LED light bulbs that form a wireless network, offering a substantially faster user experience, in comparison to other wireless communication technologies, such as Wi-Fi, by using the light spectrum.
LiFi is a category of Optical Wireless Communications (OWC). OWC includes infrared and ultra-violet communications as well as visible light. However, LiFi is unique in that the same light energy used for illumination may also be used for communication.
The most secure wireless connection
Faster than traditional network access
No electromagnetic waves
Very precise GPS
Eco-friendly
Indoor connectivity (medical, aeronautical, defense...)
No health risks
Very economical (no license)
Data density
No interferences
The program of the Global LiFi Congress 2019
The event of the year for LiFi
The Global LiFi Congress® will take place on the 12th and 13th June 2019 at the Salon Hoches, near to the Arc de Triomphe. The possibilities, and potential of LiFi are immense.
The Global LiFi Congress® will bring together, in an international event, all of the players involved in this new technology.
The Global LiFi Congress® will enable you to learn about the latest technological advances concerning LiFi, and its evolution in the (short, medium and long term).
How is LiFi able to enhance my innovation strategy? How can LiFi give me a competitive edge?
For more information, visit https://www.lificongress.com/Press-release-93-2.html
Event details:
2nd Edition of the Global LiFi Congress
The Salons Hoche, Paris
June 12-13, 2019
Contact:
Global LiFi Congress
Email:
Web site: