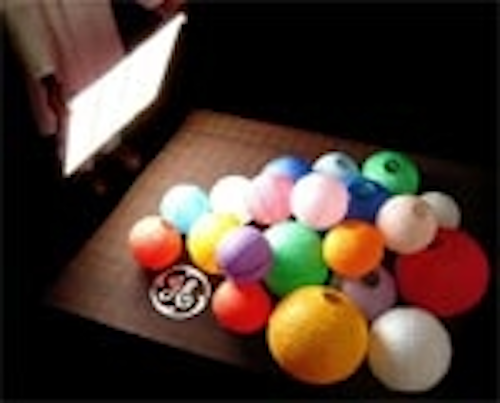 Latest
Cree reports 131 lm/W from prototype white LED at 20 mA (Jun 06)
Cree has reported a new benchmark for white LED efficacy with a prototype device measured by NIST at 131 lm/W at 20 mA.
White LEDs light up new markets (Apr 06)
The latest report in the LED Quarterly Insights series provides a detailed analysis of the technology challenges and market opportunities for white LED manufacturers.
Nichia breaks 100 lm/W barrier for a white LED (Mar 06)
Nichia plans to commence production of white LEDs with an efficacy of 100 lm/W, at an operating current of 20 mA.
Nitto Denko develops nano-scale YAG phosphor for white LEDs
Working with an unnamed VC partner, Nitto Denko has developed a process to produce nanometer-scale YAG phosphor materials.
Introductory Articles
Accurate modeling of LED colors: a scientific approach
LED light sources are being used more frequently in large-scale applications, but planning them can be hampered by poor color rendering on computer screens. Ian Ashdown of byHeart Consultants Limited discusses methods for improving on-screen color accuracy.
Dimming method affects chromaticity of white LEDs
A study of dimming methods indicates that the lowest chromaticity shift among high-power white LEDs is observed for phosphor-converted LEDs dimmed using pulse-width modulation.
Innovations push white LEDs towards new applications
White LED makers are making strides to improve the color consistency, white light quality, lifetime, efficiency and cost of their products
Selected Features
LightFair part 1 - White LEDs and light engines
Among the key trends at this year's LightFair was a focus on usable white light (providing color control, consistency) and also the development of solid-state lighting platforms.
New GELcore phosphors improve color-rendering index
For white LED lamps that use phosphor downconversion of blue or UV light, the development of new phosphors is a key requirement to enable improvements in color temperature and color rendering, and to open up new markets for LEDs.
GE develops white organic LEDs for lighting
A DOE-funded project to develop white OLEDs for lighting applications was described in a talk at the Fourth International Conference on Solid-State Lighting by Anil Duggal of GE Global Research Center.
Issues of color rendering and perception by the human eye
Cree pushes white LEDs to limit
Cree has developed white LEDs that produce 4.7 lm at 20 mA, and have an efficacy of 74 lm/W.
Any color, as long as it's white (Compound Semiconductor magazine, December 2003)
It is widely believed that general lighting will one day become a huge market for white-light LEDs. Bill Kennedy describes some of Toyoda Gosei Optoelectronics' recent technological progress.
Selected News
Quantum dots produce broad-spectrum, warm-white light
Very small quantum dots have produced white light emission, but their future potential is not clear.
Citizen, Stanley develop powerful white LEDs
Citizen has developed a 24-chip white LED source that produces 245 lm at 70 lm/W, while Stanley has a 4-chip, 180-lumen device.
NYSERDA funds development of non-toxic phosphors
Nanomaterial specialist Applied NanoWorks has received project funding to develop new phosphors for white LEDs.
Osram hits 200-lumen output with Ostar LED
Osram has unveiled a 200-lumen white version of its Ostar LED, while an RGB version has been incorporated into a full-color LED camera light.
MaxLite introduces 2700K LED light bulbs
New warm white bulbs from MaxLite, developing in cooperation with Toshiba, offer a constant color temperature of 2700K and 50,000 hour lifetime.
Remote phosphor technique improves white LED output
A new technique has been developed to separate the phosphor from the chip in a white LED, which improves the extraction efficiency of emitted light.
Toshiba, Harvatek unveil high-luminosity white LEDs
Two more companies join the growing list of suppliers of watt-level white LEDs
Intematix licenses white LED phosphor technology to AOT
Taiwanese LED manufacturer AOT will make white LEDs using phosphors developed by Intematix
Cree and Nichia announces white LED cross-licensing
Cree receives ATP award to develop white LED lamp
Cree has received US government funding to demonstrate a white LED lamp package with high brightness and high efficiency and significantly reduced cost per lumen.
Selected Products
Seoul unveils world's highest brightness warm white LED
Dominant introduces white LEDs with non-YAG phosphors
Luminous Corp develops new KLD phosphor for white LEDs
Lumileds delivers white LEDs with patented conformal coating
Color Kinetics extends OEM product line to white light markets
Osram Sylvania debuts DRAGONtape and DRAGONpuck
New white LEDs from GELcore offer range of CCT and CRI
Color Kinetics launches IntelliWhite series
Cree XLamp LEDs achieve industry's highest white light brightness