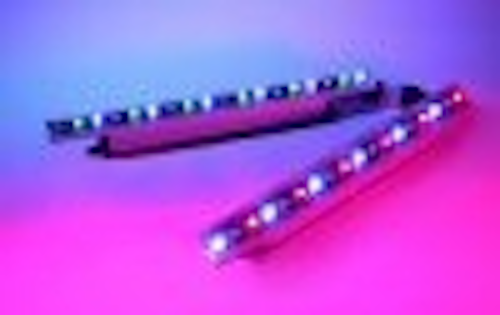 Advanced power technology
As the performance of LEDs continues to increase, giving way to higher-output systems for general illumination, efficient power distribution poses a challenge. Color Kinetics integrated a complete line voltage power solution into its systems with Powercore, streamlining multiple conversion and regulation stages into a single, flexible, microprocessor-controlled power stage that efficiently controls power output to LED-based systems.
Powercore eliminates the need for multiple external power supplies, reducing installation costs and complexities, and facilitates the installation of many units in a continuous run. The first systems to leverage Powercore are:
iColor® Cove MX Powercore

iColor Cove MX Powercore boasts more than double the intensity of iColor Cove, and provides uniform color mixing with maximized output to vibrantly fill alcoves and accent spaces, back- and edge-light signs and displays, and enable seamless streams of color in indoor architectural applications. The compact, 12-inch (30.5 cm) unit has a 100-degree beam angle, and its integral mounting bracket allows for simple 180-degree rotation in 10-degree increments, directing the output as desired.
ColorCast 14
A high-performance union of linear, low-profile fixture design and maximized light intensity for uniform, saturated color in wall washing and large alcove applications. The 13.5-inch (34.3 cm) unit comprises 18 red, green, and blue power LEDs mounted in a linear array, projecting soft light with a wide beam angle for even distribution. Its ease of installation and continuous run capabilities make it an ideal, cost-effective choice for washing large-scale alcoves, archways, and up to 15-inch (4.6 m) walls, in both indoor and outdoor applications, with rich color and dynamic lighting effects.
ColorCast 14 Conduit
A conduit-ready version of ColorCast 14 that will facilitate installations in plenum rated areas, in areas where local codes prohibit exposed wiring, and in exterior/landscaping environments. It will also support projects that require custom spacing of the units.
New and traditional applications
Color Kinetics' commitment to innovation is reflected by its diverse and growing product line, which extends the increasing benefits of LED sources into both new and traditional lighting applications. Making their official PLASA debut are:
iColor Module FX
A 6-inch (15.2 cm) square modular unit for sophisticated designs that call for singularly controllable points of light. iColor Module FX incorporates 9 or 36 tri-color LED nodes, mounted on a printed circuit board, and driven by Color Kinetics' custom Chromasic™ microchip. Each LED node within iColor Module FX is individually controllable, whether applied across one unit or a large-scale, multi-unit installation. As a result, designers have a creatively flexible, extensible medium with which to bring complex lighting designs to life, including scrolling text and images, video and animations, across small or large-scale interior wall and surface applications. The units may be conjoined to form grids and customized shapes for unique displays in retail, entertainment, hospitality and casino environments, among others.
iColor MR g2
An intelligent, color changing lamp that generates saturated bursts of color from most standard MR16 fixtures and sockets. With more than three times the intensity of Color Kinetics' popular iColor MR, the compact lamp facilitates both new and retrofit installations - bringing the aesthetic and practical benefits of intelligent solid-state light sources to existing installations and lighting environments, including commonly used tracks, rails, cables and pendants in interior retail, display, architectural and residential applications. It is also well suited for creating direct-view points of light in theater and stage environments. Its standard MR16 bi-pin connectors, sleek housing and matte chrome finish make it easily adaptable to a wide variety of traditional lighting schemes where LEDs may not have been previously used.