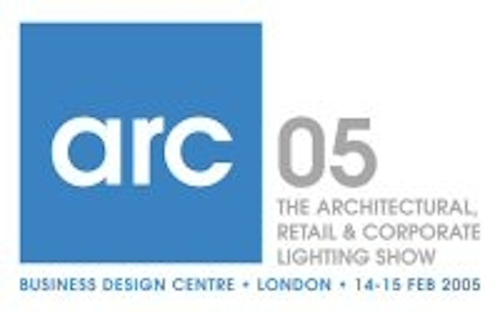 "ARC 05 - the architectural, retail and corporate lighting show" is the only lighting exhibition in the UK that is specifically targeted at architects, interior designers, lighting designers, electrical engineers and specifiers.
The show will be held at the Business Design Centre, Islington, London on February 14 and 15, 2005 and will also support , among other events, a two-day forum in association with the Lighting Industry Federation (LIF) covering LEDs and DALI, the lighting control protocol.
ARC 05 is organized by Mondiale Publishing, which publishes a number of magazines including mondo*arc (covering architectural, retail and corporate lighting) and mondo*dr (covering entertainment technology).
LIF forum on LEDs
The Lighting Industry Federation (LIF) will hold two forums, concentrating on LEDs and on DALI control. The format for each will be similar, if not the same: four 75 minute sessions covering the capability of the technology, the embodiment, maintenance/installation and application.
All presentations will be company-neutral and as a result the forums will be eligible for RIBA-approved CPD. The forums will take place at the meeting rooms of the Business Design Centre, upstairs from the show itself.
The LED forum will be held between 4pm and 7pm on Monday February 14, the first day of ARC 05.
The program will cover the capability, embodiment, installation and application of next year's LED technology.
Speakers will be drawn from the major suppliers in the LED marketplace, namely Osram, Philips, TridonicAtco and Vossloh-Schwabe. Input will also be provided by leading lighting designers who utilise LEDs.
The Forum coincides with the launch of the new industry LED application guide, which is scheduled for publication March 2005. As part of the post-forum package, delegates will be sent an LED application guide. The cost for the 3-hour RIBA CPD accredited session is GBP30 for LIF members and GBP50 for non-members.
The DALI forum, to be held from 10am to 4.30pm on Tuesday February 15, also describes how this technology is applied to LEDs.