Polymer technology provides uniform glow for PolyBrite bulbs
PolyBrite International has released a range of LED bulbs and lighting systems based around the company's patented polymer technology which provides bright, even illumination.
Nov 22nd, 2004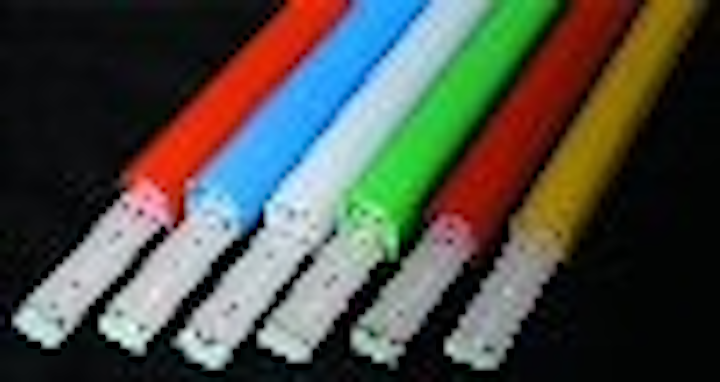 PolyBrite International's Westinghouse LED Lighting Systems recently unveiled a new series of LED products, including Channel Letter and Linear lighting systems, and Marquee 60 and S11 bulbs.
The products all share the common feature of uniform color and brightness, which is largely attributable to the company's patented polymer technology. The polymer is molded or extruded into covers for the bulbs and the lighting systems, and this not only makes the products very robust but also provides some unique advantages.
"Our polymer disperses the light and produces a very strong glow," says Carl Scianna, president and CEO of PolyBrite International's Westinghouse LED Lighting Systems. "Our competitors can't use other polymers or plastics, as these smother the light."
Scianna says that other companies have introduced bulbs with white glass covers. "The colors are pastel, and these products also require more LEDs to get the necessary brightness levels," he says. "We get intense colors and uniform brightness, and the main reason is our polymers."
The chemistry of the polymer was designed to make the material perform well in terms of dispersion, says Scianna. The technology is protected by US patent no. 6,568,834, entitled "Omni-directional lighting device", of which Scianna is the named inventor. The patent describes a light-modifying material composed of ethylene/butene-1 copolymer or propylene homopolymer, or a combination of the two, and lighting devices using the material in a light transmitting cover.
The two polymeric materials can be mixed to produce a cover with the desired flexibility or rigidity, which can be made to any shape or size and can also be clear or colored. LEDs are the preferred light source to enable an energy-efficient product which uses up to 90% less energy than conventional technologies.
The polymer cover disperses the light in a very even manner, so that colored PolyBrite light bulbs are indistinguishable from normal bulbs, says Scianna. "LEDs are very directional, so in other bulbs the LEDs can be seen as a number of point sources," he explains. "Because of our polymer, our bulbs provide very even illumination all around."
PolyBrite purchases high-power white LEDs from Nichia and Lumileds for use in its white bulbs, which require a certain output level to be useful for general illumination. The colored bulbs are for decorative purposes and have a lower output (5-7 W for the S11, 12-15 W for the Marquee 60), so standard 5 mm or surface-mount devices are used. The S11 is a decorative indicator bulb used for signage and scoreboards.
In terms of purchase cost, the PolyBrite bulbs are more expensive than conventional bulbs, but looking at whole-life cost is a different issue. "Our white LED bulbs are guaranteed for 50,000 hours, or about 10 times longer than regular bulbs," says Scianna. "They are virtually unbreakable and can handle extremes of temperature and being turned on and off frequently."
PolyBrite has analyzed the cost of operating its Channel Letter lighting system, in comparison to neon. By virtue of drawing a much lower current, the LED system consumes about one-tenth of the power, resulting in an energy consumption saving of 88.9%. The Channel Letter system consists of a series of connected modules containing surface-mounted LEDs and covered with a dome-shaped optical lens.
PolyBrite International, which is a Goeken Group company, established an agreement in September 2003 with Westinghouse Lighting, a leading lighting manufacturer, to allow for joint distribution, marketing and development of LED lighting technologies for general illumination. The products introduced recently by PolyBrite at the Hong Kong International Lighting Fair (October 27-30) are marketed under the Westinghouse name.