OSRAM Opto Semiconductors announces 2 W white Golden Dragon
OSRAM Opto Semiconductors has announced a performance breakthrough with the introduction of its two-watt Golden Dragon LED.
Mar 31st, 2004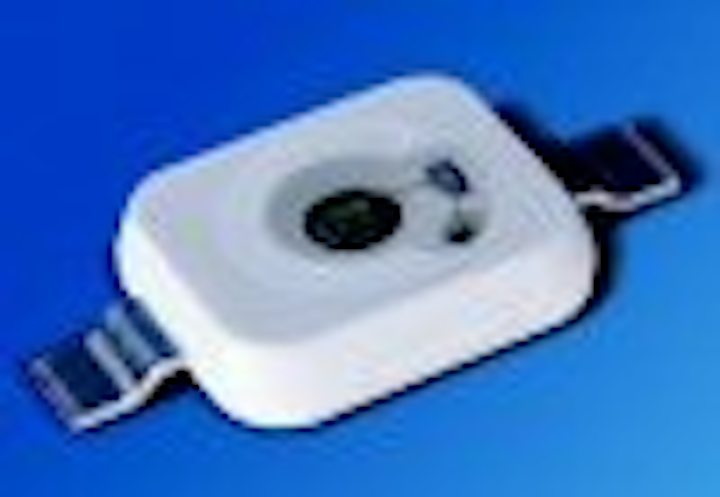 Packaged in a proprietary surface-mount technology (SMT) LED, the Golden Dragon dissipates twice the power and increases the light output, offering an exciting new advance in this product line.
The Golden Dragon LED is now available in full spectrum of colors (red: 625nm, yellow: 590nm, green: 505nm, blue: 470nm and standard white: x = 0.33, y = 0.33).
The two-watt Golden Dragon LED with its indium gallium nitrite (InGaN) chip has an extremely low thermal resistance of 9 C°/watt, providing better thermal dissipation.
OSRAM's groundbreaking, two-watt Golden Dragon enables increased operating currents up to 500 mA and ensures a long product life of more than 50,000 hours, defined by 50-percent degradation when applied under typical operating conditions.
The (Pb-) free, two-watt white Golden Dragon LED can be operated up to 500 mA with a typical output of 40 lm and a broad 120-degree viewing angle. The white Golden Dragon delivers 23 lm/W, and additional efficiency improvements are planned for rollout in the near future.
"The two-watt, white Golden Dragon is one of the many breakthrough LED products we're developing to meet our customers' diverse needs," said Tom Shottes, president and chief executive officer, OSRAM Opto Semiconductors Inc. "Our white, two-watt Golden Dragon is an extremely versatile product that can be used within a wide range of general lighting applications."
Equally important, the lead-free, white Golden Dragon represents OSRAM Opto Semiconductors' continued commitment to LED products that are safe for the environment and promote energy-efficient lighting applications.