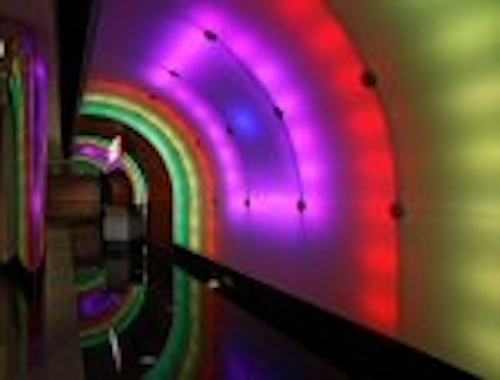 The Ontario Lottery & Gaming Corporation wanted to improve traffic flow for The Slots at Ajax Downs, a casino in Ajax, Ontario, Canada, to move patrons from the lobby to the gaming floor.
To meet these goals, MICE - an integrated global communications agency - conceived, engineered and installed LED kiosks and light wall displays to welcome visitors to the casino with all the colors of the rainbow. The LED effects then direct visitors to the gaming floor where players can later see winners' names in lights.
MICE says that LED technology allowed for creation of programs which enabled the light to travel vertically, horizontally, radiating from a single point location morphing in colors and hues to bursting spots or electrically charged flashes that provided a unlimited and imaginative show. The LED lighting's longevity of up to 15,000 hours or more reduce maintenance costs and site visits. The computer driven shows can be manipulated and programmed off site on CD and forwarded for installation in the Light System Manager (LSM) that powers the shows.
The design of the lobby kiosk called for unobstructed seams, so MICE built the kiosk corners with mitered glass that resulted in a stunning flow effect of color, patterns and shades.
The light wall outside the gaming area is constructued of 48 x 48 inch glass panel. The glass panels cover rows of 12-inch NXT Color Cove LED lights from Color Kinetics. All of the LED lights were linked by CAT 5 cables back to PDS 150e transformers, which in turn, were controlled from the Light System Manager.
Each light panel of quarter-inch curved glass weighing 150 pounds had to be suspended from a steel structure while minimizing shadows and still maintaining ease of access for future service.
With web steel joists on the ceiling and unobtrusive hanging points on the corners of the glass, MICE constructed a curved lobby wall feature coming out 12 feet above the heads of visitors and 8 feet from the wall.
The light wall on the gaming floor spans 184 feet with seamless glass panels that together create a feature screen around one half of the facility allowing uninterrupted movement of programs and light displays announcing events and winners.
When the lights turned on, MICE says that it received an enthusiastic response from the Ontario Lottery & Gaming Corporation, the staff at Ajax Downs and other partners.