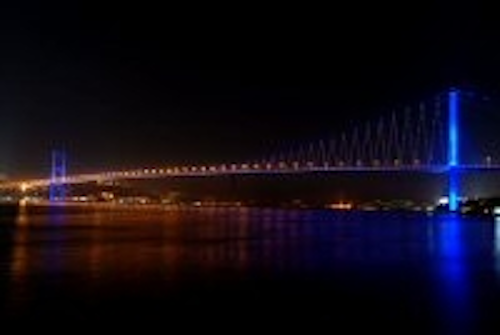 For the past 33 years the 1074-meter-long Bosphorus Bridge has been one of Istanbul's most important symbols, linking the continents of Europe and Asia. It has now been illuminated with a huge number of color-changing LED fixtures from Philips. This has reduced the power consumption of the bridge's lighting scheme by 50% to around 90 kW.
For this project, the most important aspects of using LED technology were the ability to obtain many different colors of light different from standard light sources, the long service life, and very low energy consumption. The system's software allows various illumination effects and color and light demonstrations.
Three types of LED luminaires were used to illuminate the Bosphorus Bridge. For the bridge columns, a total of 852 LEDline linear luminaires were used, with a length of 120 cm and a power consumption of 45-60W, depending on the model.
A total of 478 LEDline luminaires were used for the bridge railings. These 13W products are 60 cm in length and have a prismatic glass cover, making them easily visible from different angles.
On the cables, 4.5 W LED Module luminaires were used, each containing 4 power LEDs in red, green, blue and white. 1760 LED Modules were used for the suspension cables, and a further 664 units were used to illuminate 166 nodes on the main cable.
Command and control information was transferred from the central computer system in the control tower of the highway building to eight main points of the bridge by TCP/IP protocol carried over fiber-optic cables.
Control signals are transmitted to the lamps by regional control modules and DMX communication protocol. Power is provided from the power supplies at road level on the bridge, nodal points and in energy panels in the columns.
6304-channel information is transmitted to LED luminaires from the tower control building in one tenth of a second for controlling LED Module luminaires at nodal points on the suspension cable and main span, enabling fluent and constant light scenarios. 2318-channel information is sent for illumination of the railings and columns.
The large number of channels is for the purpose of controlling all the luminaires used on the bridge separately at different times depending upon various scenarios. This makes the new illumination system of the bridge a dynamic illumination allowing implementation of various light scenarios unlike traditional switch-on/switch-off stable decorative illumination.