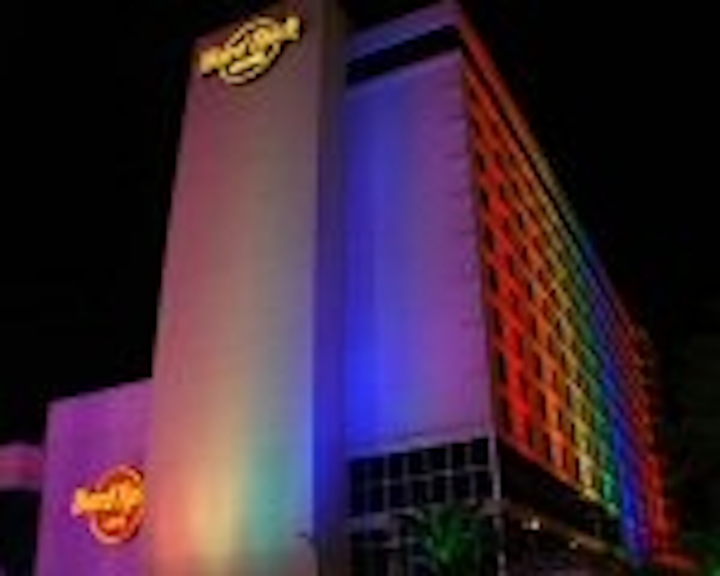 The newly restored Hard Rock Hotel & Casino Biloxi, Mississippi, opened its doors on July 7, 2007 after suffering extensive damages from Hurricane Katrina. The revamped hotel is known for its collection of authentic music memorabilia and, now, for its sensational lighting effects enabled by Color Kinetics LED solutions and technologies.
Lighting designer Jon Champelli, President of SHOP 12, was tasked to capture the kinetic energy of the Hard Rock and create visual interest throughout the hotel. Champelli enlisted the help of 4Wall Entertainment, a leading international provider of lighting systems for theatrical, architectural, and marketing applications.
Together they selected the best light fixtures to meet their needs, and LED sources proved ideal. Aesthetically, they can generate millions of colors and dynamic effects without gels, filters or mechanical scrollers. Operationally, they require very little maintenance and produce little to no radiated heat. Color Kinetics' LED illumination systems thus provided the perfect solution to meet their criteria, and the vibrant resulting colors and effects are everywhere!
ColorBlast 12 Powercore fixtures illuminate the hotel's exterior. Arranged on poles that allow the LED power cables and DMX control signals to be combined, each pole has a specially fabricated support arm to hold 6 ColorBlast 12 Powercore fixtures. The poles are then directed to focus the light on the lower, middle or upper levels of the building. The LED light show has a changing color palette and nicely complements the famous eight-story guitar.
In the main entranceway, a visually stunning sight immediately grabs guests' attention: the Hard Rock Biloxi Memorabilia Wall. This two-story wall pays homage to Rock n' Roll's greatest influences, featuring clothing, instruments and other personal items from the music industry's greatest icons. Over 1,000 Color Kinetics iColor Cove® QL units are used to highlight the display with constantly changing colors and light shows. This low-profile, low-maintenance fixture is perfectly suited for the tight and difficult-to-access niches and its low heat output will not damage the display's contents. Above the wall, ColorBlast® 12 Powercore fixtures blanket the white atrium wall with a saturated wash of color.
The raised Center Bar features a radical design with metal panels radiating from the center of the bar, which are reminiscent of spokes on a wheel. Each metal panel is streaked with color using ColorBlast® 12 Powercore fixtures. The Center Bar's visual focal point features Color Kinetics iColor® Module FX, a 6-inch (15 cm) square modular unit with singularly controllable points of light, at the middle. The iColor Module FX panels display intricate patterns, images, animation and video on the 15-foot by 25-foot (4.5 X 12 m) LED wall.
Champelli created video content including a constantly changing wave of colors, and he programmed the display to jibe with the other design elements throughout the bar and hotel. "The colors on the 'wheel spokes' are chosen to complement and in other times contrast with the LED wall," said Champelli. "Combined, these lights give the Center Bar a pulse and a tempo and establish a system to keep things moving without being a distraction."
Four 'Video Skylights' are prominently located on the ceiling over the promenade walkway. The 10-foot by 10-foot (3 X 3 m) framed skylight is comprised of 25 units of iColor® Tile FX, a 2-foot by 2-foot (61 X 61 cm) panel that provides a canvas for creative lighting designs, effects, animation and medium-resolution Video with Light(TM). The display is separated by mullions to conserve the number of LED tiles being used, and each separated section is covered by Panelite(TM) translucent honeycomb panels to diffuse the display image. The 'Video Skylights' feature custom video light shows in a one-hour loop.
VIBE is an upscale restaurant with a private dining room in the early evening hours and a small performance area for late night live entertainment. At its entryway, a sign made out of iColor® Flex SL, a multi-purpose, LED-based strand of light, welcomes and entices customers into the vibrant atmosphere. The sign's custom-made 24-foot by 12-foot (7.3 X 3.7 cm) steel frame structure is covered in a DiBond® material, and punched holes allow for almost 3,500 iColor Flex SL nodes to slightly protrude from the artificial leather surface. Each of these LED nodes can be individually controlled to create intricately designed effects and patterns of light, resulting in an impressive ceiling structure that can be viewed from across the casino.
In other areas of the hotel, such as in the buffet areas, iColor® MR g2 display different patterns such as an American flag motif with stars and stripes or random color changing sequences. A variety of equipment and video servers are used to store the content and feed the data streams to the LEDs and special programs have been incorporated to allow for the effects to be changed or updated as warranted.
Control and data distribution were critical to the success of the project. Buddy Pope, Senior Project Manager for 4Wall Entertainment Lighting, explains, "We designed conventional managed data networks using star topology, routers, and other features of typical office or industrial networks. Our approach was to use Ethernet and commonly used network wiring protocols to allow for the distribution and control of all of the LED systems in a reliable and seamless manner."