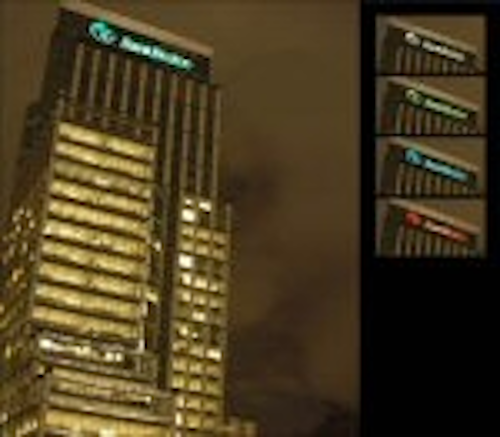 Bank Boston, one of the largest bank holding companies in the U.S., set up its Latin America's headquarters in Sao Paulo, Brazil in 2002. The brand new 30-story office building was designed by SOM (Skidmore Owings & Merrill), the renowned architect who also designed those landmark buildings such as Sears Tower, World Trade Center, Freedom Tower, and many others around the world.
On top of the bank building, a state-of-the-art color-changing LED lighting system is employed to light up the huge 18 foot high by 92 foot long bank name sign.
This advanced LED lighting system was supplied by Act One Communications in Irwindale, California. The technology is based on installation of flexibly-linked lighting pixels behind the sign face.
Those pixels, as they are not bound on a rigid surface, can fit into any surface configuration regardless of its shape and size: 2D, 3D, flat, segmented, curved, spherical, to name a few.
Each lighting pixel is weatherproofed and composed of several red, green and blue LEDs that can generate up to one-billion brilliant colors regulated by an IC chip inside. The pixels are 1.75-inch in diameter and weighs only one ounce.
For the Bank Boston sign, there are 4,000 pixels used, distributed evenly at 4-inch spacing. With a compact digital controller, each pixel can be addressed individually, thus allowing maximum flexibility and variations for the color pattern design.
For the huge bank sign, the lighting system consumes a maximum power of 4,000 watts. While in operation with continuous color changing, it only draws about 1,200 watts – the same as turning on a household hair dryer!
The sign has been in operation for five years since installation and runs still like new. Bank Boston is very pleased with the lighting system made by Act One for its artistic and quality performance, energy efficiency, and reliable long-life operation.