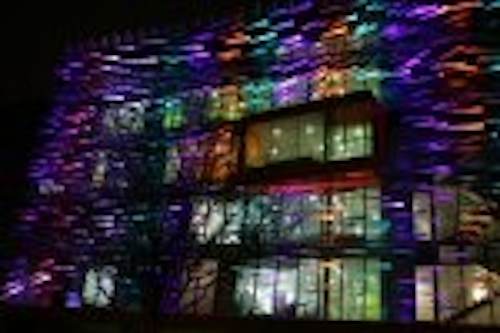 A stunning lighting scheme has recently been designed, supplied, installed and programmed by Lightscape Projects, part of the Light Projects Group, for the Richard Desmond Children Eye Centre which forms part of the Moorfields Eye Hospital in London, UK.
The new building, designed by architects Penoyre & Prasad, is illuminated on the south side using RGB color changing LED lighting supplied by Light Projects and Tryka.
The LED lighting illuminates the façade by casting light on the underneath of the freely-placed, folded aluminium louvers, which the team has nicknamed "seagulls", according to Light Projects' Roger Beckett.
The building has an outer glass curtain wall, with the seagulls positioned on a tensioned cable net about 0.75 m away to protect the building from solar gain.
The LED lighting fixtures are positioned on gantries at each floor level. A total of 64 fixtures were used, including linear fittings and others to fit around the uneven shape of the building. Beckett says that the fixtures are about 80 mm from the glass wall and their light is directed towards the underside of the "seagulls", with an angle of 50-degrees to the horizontal.
All the light goes away from the glass to prevent direct glare affecting the occupants. "The lighting is designed to be very comfortable for people inside the building," says Beckett.
The lighting system is controlled via a DMX 512 controller, using a Light Projects-designed program to create shifting light scenes with an imaginative mix of subtle colors.
Beckett comments, "This project demonstrates how the improving synergy between architects and lighting designers can come together to turn building facades into magical events."