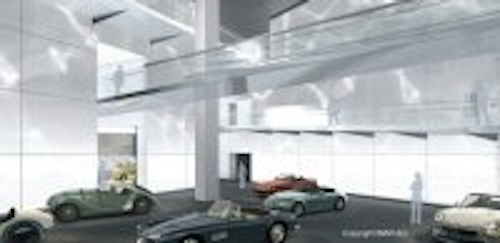 Ledon and Lexedis, the LED specialist subsidiaries of the Austria-based Zumtobel Group, have been awarded a contract worth more than EUR 1.5 million to supply an LED lighting scheme for the new BMW museum in Munich, Germany.
Ledon will supply 120 cm long, dimmable LED modules to illuminate a series of glass surfaces. The modules contain a total of 300,000 nanoXED emitters from Lexedis.
The new BMW Museum opens in spring 2008 and the luminaires are to be supplied over the course of the next four months.
As part of the overall renovation of the BMW Group Headquarters, the BMW Museum is to be extended on three levels with the addition of a pavilion. The resultant blend of open and closed exhibition spaces, joined by a system of ramps, increases the overall display area to 5000 m2.
A major component within the pavilion will be the 3000 m2 glass façade. LED lighting will be used to generate harmonious light and uniform illumination of the glass surface.
To generate an evenly backlit interior façade, Ledon will be using an optimum arrangement of dimmable LED modules, taking into account the variable distances between the glass and wall elements at different points. The color temperature is chosen to fit with the overall media concept for the building.