Osram LED researchers win German Future Prize 2007
The prestigious R&D prize has been awarded to the team that developed Osram's thin-film LED chip technology and applied it in the Ostar family of LEDs.
Dec 7th, 2007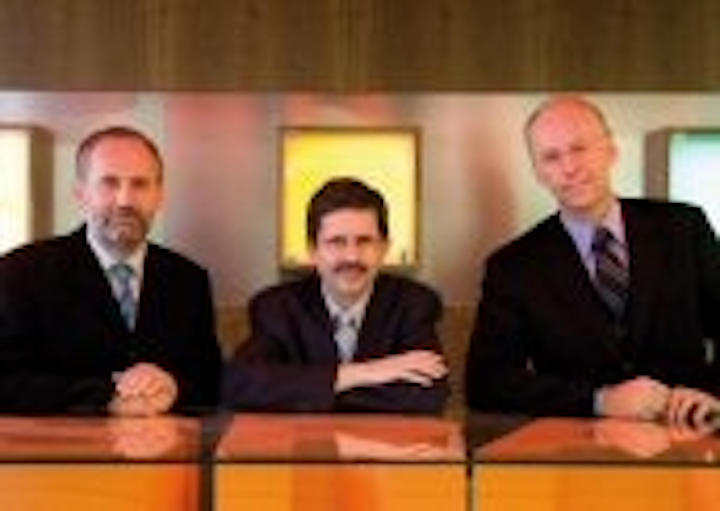 The German Future Prize, the most prestigious award for research and development in Germany, has been awarded for the development of thin-film LED chip technology and its application in the Ostar family of LEDs.
The prize was awarded by the German President Horst Köhler to Klaus Streubel and Stefan Illek from OSRAM Opto Semiconductors in Regensburg, together with Andreas Bräuer from the Fraunhofer Institute for Optics and Precision Engineering in Jena. The prize is worth EUR 250,000.
Presented this year for the eleventh time, the German Future Prize recognizes not only exceptional technical, engineering and scientific achievements but also practical applications, marketability and job creation.
Osram describes the Ostar LED as the ideal combination of different technologies, namely a new production process for high-power chips, a perfectly matched package platform and special optics developed in cooperation with the Fraunhofer Institute for Optics and Precision Engineering. "With these technologies we have achieved a particularly high luminance for LEDs in all colors and also for infrared light – this is a truly groundbreaking innovation," said Klaus Streubel.
"OSRAM has been producing pioneering innovations for many many years and we are intensifying our efforts every year," said Martin Goetzeler, CEO of OSRAM, "This is a magnificent achievement for the team and OSRAM as a whole."
"This year's award by the German President confirms our position as an innovation driver and is also wonderful recognition of all the hard work done by our employees", said Rüdiger Müller, CEO of OSRAM Opto Semiconductors.