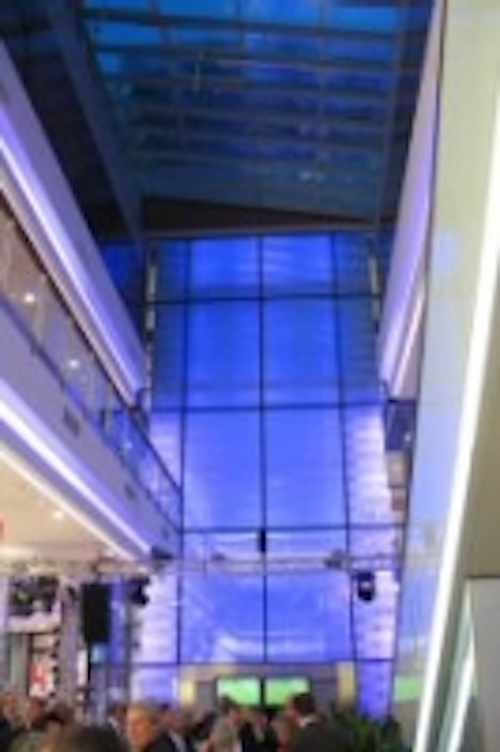 Zumtobel has implemented a large-scale LED lighting installation in the Stadioncenter shopping mall in Vienna, Austria. The contract worth almost EUR 1 million is Zumtobel's biggest-ever order for LED lighting.
The lighting concept forms a core factor in the architecture of the mall: the leading-edge lighting technology is designed to create a pleasant, seasonal and event-related atmosphere for shoppers. One major attraction is a 23-metre high icefall: the frozen waterfall has ice that is one metre thick and can be lit with changing colors.
To realize the project, Zumtobel's subsidiary and LED applications specialist Ledon developed six new LED lighting products. Along with various LED light tiles and LED light chains, 324 ceiling-mounted LED media luminaires, each with 144 LEDs, are the main attraction on the lighting front. The ability to individually control each LED point in a media luminaire means that light shows, text, images and videos can all be displayed with smooth color transitions.
Zumtobel Group CEO Andreas Ludwig underlined the significance of LED technology as a driver of growth and innovation: "LED technology represents a major opportunity for the future development of the Zumtobel Group. In the medium term we are targeting revenues of EUR 100 million in the LED sector."
"Across the Group we cover the full LED value chain, from light sources and lighting management via control gear and luminaires to complete lighting solutions. Projects like the Stadioncenter in Vienna provide some idea of the new fields of application that can be covered in future by innovative LED technology."
The Stadioncenter was officially opened on August 30, 2007 following a 100-week construction phase. The centrally-located shopping mall provides 21,000 sq. m of retail space with room for around 70 shops, and will create 1,000 new jobs. The entire mall represents an investment of EUR 75 million on the part of the developer IG Immobilien.