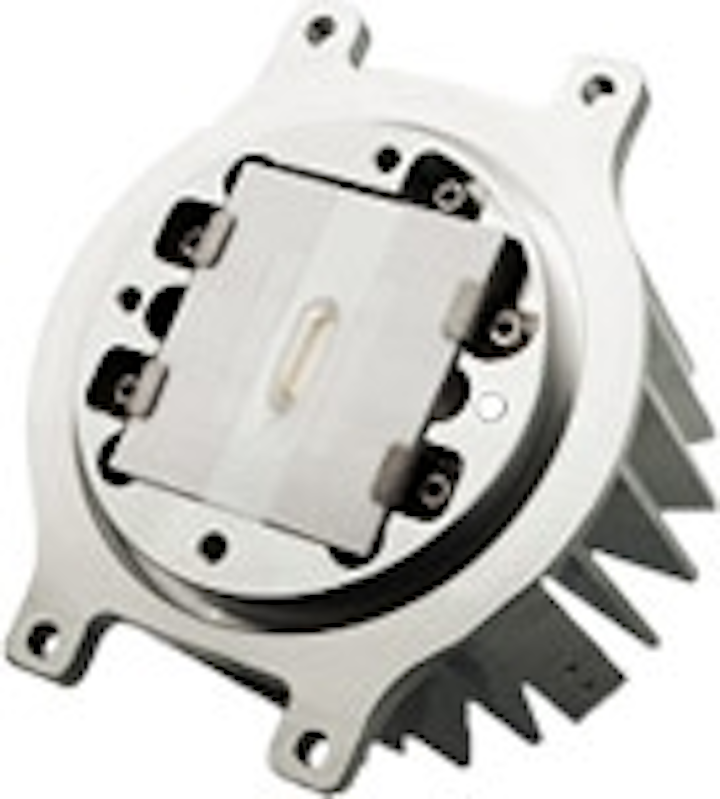 Light Emitting Plasma (LEP) technology shares a number of features with LEDs including energy savings compared with legacy lighting and solid-state control with dimming capabilities. At the Light+Building exposition, ComGroup (Croatia), Leuchtec (Germany), and Gavita Nederland BV (The Netherlands) all announced new luminaires based on Luxim's LiFi-branded LEP technology.
ComGroup announced a series of decorative fixtures designed for street and area lighting applications. Leuchtec introduced a street light that is based on the previously-announced Luxim STA-41 product. Horticultural specialist Gavita announces the GAN LEP that's designed for growing plants in sunlight-free rooms.
Luxim also demonstrated the STA-41 that was designed by Stray Light Optical Technologies and announced back in February at the California Lighting Technology Center (CLTC) open house. The STA-41 outputs 23,000 lm, has a 50,000-hr life, and can be dimmed to 20% of full output.
"If this year's show is any indicator, LEP's moment has clearly arrived, with traffic to our booth at an all-time high. Visitors are awed by the LUXIM exhibit, spectacularly illuminated by a hand full of tiny LiFi bulbs. We're excited to see that momentum turn into sales as more and more lighting leaders switch to plasma to differentiate their novel new fixtures" said Geoff Brown, Luxim's VP of sales.
Luxim touts LEP as complementary to LED lighting in that both offer energy savings. The company believes that LEDs work best in low- and mid-illuminance products and claims that LEP is a better technology for applications including streets, parking lots, big-box retailers, distribution centers, and factories.
In applications that presently have 400W metal halide, or 465W HPS lights, Luxim suggest that LiFi lights can provide comparable light output using 266W – a 43% reduction.LEP operates using a RF signal to create an electric field that excites the contents of an LEP bulb to a plasma state that generate slight.<.p>