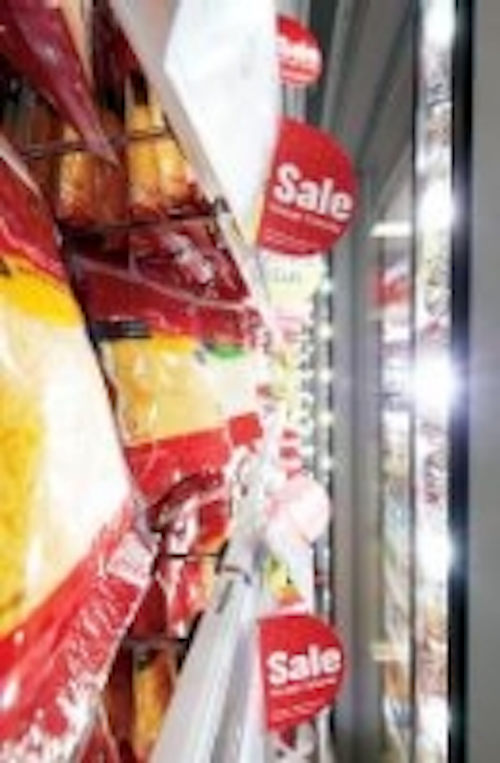 The Target retail chain in the US plans to install GE LED lighting in refrigerated cases in 500 sores. By moving to LEDs in reach-in freezer and cooler door cases, Target expects to cut energy use by 60% relative to the previously used fluorescent systems.
"We continue to find ways we can increase energy efficiency and pilot new technologies. Efforts like these, which help reduce one of our largest operating expenses, also curtail our impact on the environment," said Tony Heredia, Target Vice President. The LED systems will be used in new and remodeled stores going forward.
The conversion will replace fluorescent lamps in reach-in refrigerated display cases with Immersion RV30 LED Display Lighting from GE Lighting Solutions. According to GE, the LED system dissipates 29W per door, whereas the fluorescent system dissipated 73W per door.
In total, the conversions will cover more than 55,000 display-case doors. Target hopes to reduce display-case energy use from 25.6 million kW/hr to 10.7 million kW/hr.
The system will also includes the integration of motion-activated occupancy sensors in some of the cases. Those sensors will provide additional enery savings by dimming or extinguishing the LED lights automatically.
"Through this conversion to reliable GE-quality LED systems and through additional initiatives that we're helping to execute, Target is making great strides both operationally and environmentally," says Michael Petras, president and CEO of GE Lighting. "Their determination is commendable."
Target has already installed the LED systems in 150 stores, and plans to to convert 350 additional stores by the end of the year.