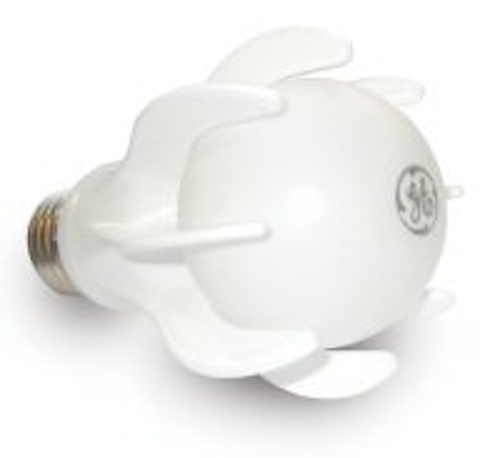 GE has announced that it is beginning to show customers a 40-watt replacement GE Energy Smart LED bulb that will be available later this year or early 2011.
The lamp is expected to consume just 9 watts, providing a 77 percent energy saving and producing "nearly" the same light output as a 40-watt incandescent bulb, while lasting more than 25 times as long.
GE says that the Energy Smart LED lamp "is expected to outperform currently available products that may be underwhelming consumers right now."
GE says that it designed the bulb "to better direct light downward on the intended surface and all around, not just out the top of a lampshade, as most current LED bulbs are prone to do."
The new GE LED bulb offers 450 lumens, which is the Energy Star threshold to be considered a 40-watt incandescent replacement. Currently available LED bulbs produce 350 lumens or less, claims GE.
GE has filed multiple patent applications for the bulb and expects it will be an Energy Star-qualified LED omnidirectional light bulb.
"This is a bulb that can virtually light your kid's bedroom desk lamp from birth through high school graduation," says John Strainic, global product general manager, GE Lighting. "It's an incredible advancement that's emblematic of the imagination and innovation that GE's applying to solve some of the world's biggest challenges."
The lamp contains XLamp XP-G LEDs from Cree. GE expects the retail price to b in the $40-50 range.
+++The following information comes directly from GE's press release+++
GE Energy Smart® LED bulb product snapshot:
Expected to consume just 9 watts—compared with 40-watt incandescent/halogen or 10-watt CFL, while delivering nearly the same light output;
Expected 25,000-hour rated life—will last 17 years (4 hours per day), which is 25 times longer than a general service 40-watt incandescent or halogen bulb and more than 3 times longer than a standard 8,000-hour rated life CFL;
LED technology delivers the instant full brightness of an incandescent or halogen bulb;
Durable solid-state design with no filament to break;
Contains no mercury and will be RoHS compliant; and
Feels cooler to the touch than CFLs and far cooler than incandescent bulbs.

The 9-watt GE Energy Smart® LED bulb, a replacement for 40-watt general service incandescent bulbs, hits store shelves this fall or in early 2011. Retailers set pricing but it is expected to be $40 to $50.

The new bulb joins GE's growing family of LED bulbs in a broad range of shapes, wattages and colors, including, spot and flood lights (PAR20 & PAR30), ceiling fan bulbs (A15), medium globes (G25), small globes (G16.5), candles (CA10), and night lights (C7). All of GE's Energy Smart® LED bulbs are rigorously tested to ensure constant color, long life and verifiable lumen ratings. For more information, visit www.gelighting.com or www.whatsyourlightingstyle.com. To learn about GE's dedication to LED quality standards, visit www.gelighting.com/apples-to-oranges.

GE will put prototypes of the bulb—outfitted with Cree XLamp® XP-G LEDs—on display at two upcoming trade shows: Light + Building 2010 in Frankfurt, Germany, and LightFair 2010 in Las Vegas, Nevada, USA. The high-efficiency, high-lumen-output LEDs used in the GE bulbs are Cree's smallest and brightest lighting-class LEDs, designed specifically for general lighting.

"The introduction of high-quality retrofit light bulbs, like the GE Energy Smart® LED bulb, is a key next step in the LED lighting revolution," notes Norbert Hiller, Cree vice president and general manager, LED Components.

Strainic adds: "Consumers have been reluctant to move away from less efficient incandescent bulbs because they love the light quality. This new GE Energy Smart® LED bulb will address that lighting preference head-on and give consumers yet another option to light their homes and businesses."

New Lighting Legislation
Starting in 2012 and continuing through 2014, standard incandescent light bulbs are going away as a result of U.S. federal lighting efficiency standards:
100-watt bulbs can no longer be made in January 2012;
75-watt bulbs can no longer be made in January 2013; and
60- and 40-watt bulbs can no longer be made in January 2014.

GE has consumers covered each step of the way with alternatives such halogen, CFL and LED bulbs that already meet the new efficiency standards.