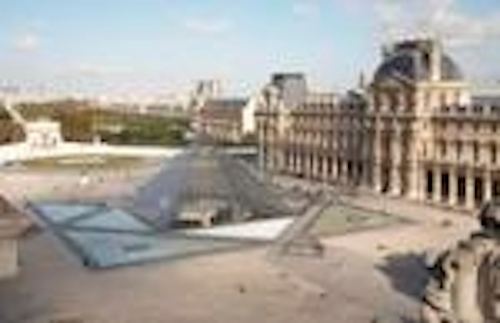 Toshiba Corporation announced that it has entered a partnership agreement with the Louvre Museum to help with its lighting renovation project. Under the agreement, Toshiba will support lighting renovations in some of the museum's most visited public spaces with provision of state-of-the art Toshiba LED lighting and renovation costs. Toshiba will provide LED lamp equipment and the cost of renovation for the Pyramids, the Napoléon Court, and the Cour carrée.
All told, there are a total of some 4,500 Toshiba LED light fittings planned. This partnership term will last from June 30, 2010 to December 31, 2023.
As one of the world's most popular museums, the Louvre is aware of the need to replace energy-consuming xenon lighting with an environmentally-friendly solution. The company believes it can deliver this, and will use its energy-saving low-CO2 products to illuminate some of the Louvre's most familiar spaces: Under its partnership agreement,
Toshiba LEDs
will illuminate the Pyramids that greets visitors as they approach the museum, the Napoléon Court, and the Cour carrée, the main entrance to the museum.
Renovation and installation of the Napoléon Court and the Pyramid will be completed within 2011, and the Cour carrée is expected to be renovated within 2012.
Alongside environmental concerns, the Louvre's lighting must convey the intrinsic beauty of the museum and its spirit as the home to some of the world's greatest art. Toshiba says that it recognises that lighting is much more than a means to brighten public spaces, and that Toshiba LEDs can do much more than contribute to saving energy.
Toshiba is taking its new lighting system business to a global level, with initial promotions in such regions as France, Germany, and the UK. Toshiba LED lamps have been available at retailers in France since January 2010. By further promoting its business, Toshiba aims 350 billion sales in FY2015.
Toshiba Group takes a proactive approach to creating value and promoting lifestyles in harmony with the Earth. In line with this principle, the company ceased production of general incandescent bulbs in March, 2010. Toshiba will further promote environmentally conscious management by working to mitigate global warming and make efficient use of resources.
About the Louvre Museum
The Louvre Museum, the French national museum since 1793, is one of Europe's oldest and most storied museums. It is also one of the world's largest museums, comparable in scale to New York's Metropolitan Museum, and the most visited, opening its doors to 8,500,000 people a year. The museum is part of "Paris, Banks of the Seine," which was registered as a UNESCO World Heritage Site in 1991.
About Toshiba
Toshiba is a world leader and innovator in pioneering high technology, a diversified manufacturer and marketer of advanced electronic and electrical products spanning information & communications systems; digital consumer products; electronic devices and components; power systems, including nuclear energy; industrial and social infrastructure systems; and home appliances.
Toshiba was founded in 1875, and today operates a global network of more than 740 companies, with 204,000 employees worldwide and annual sales surpassing 6.3 trillion yen (US$68 billion).