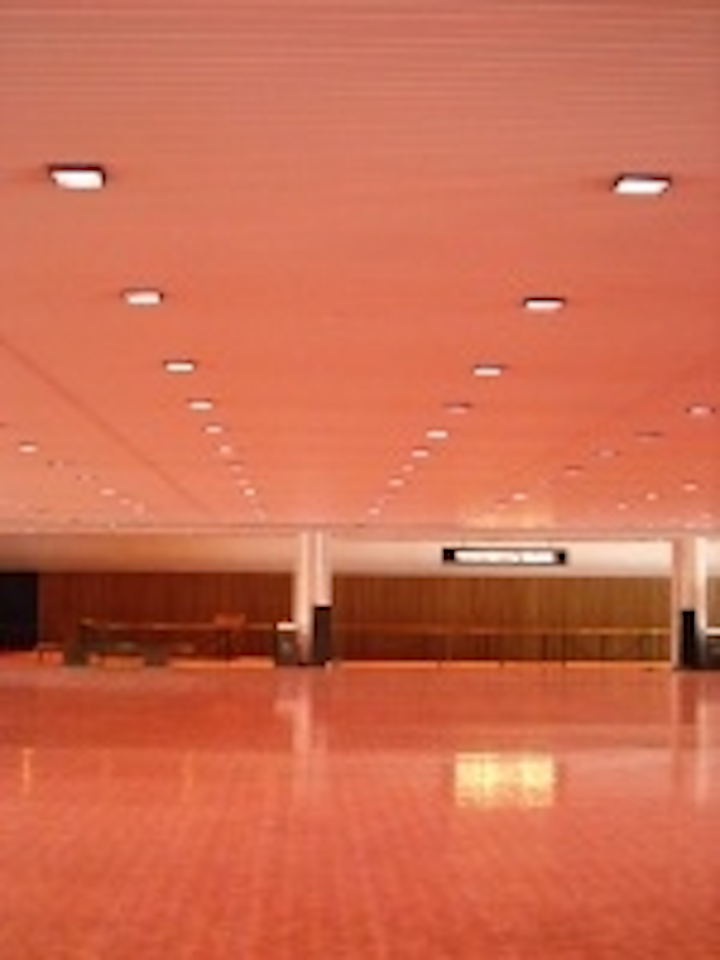 Renaissance Lighting has partnered with the University of Illinois to replace incandescent lighting with LEDN luminaires in the lobby of university's Krannert Center for the Performing Arts. The Krannert lobby serves four separate theater and concert venues, and the lighting in the lobby annually consumes 573.8 MWh (million watt hours). Renaissance Lighting Barry Weinbaum claims that LED luminaires will subtract 460 MWh from that total. Weinbaum said, "By spending less on electricity and along with the impressive longevity of our luminaires, we expect Krannert Center will realize annual savings greater than $70,000 annually." The 25,000-square-foot space hosts 350 performing arts functions and 100-plus special lobby functions each year. The lobby will feature 578 solid-state ceiling fixtures.
The Krannert remodel fits perfectly with the green movement on the Illinois campus. "The university is a huge proponent of the green movement and we view Krannert Center as the crown jewel in that effort," said Michael Williams, Krannert Center's lighting director. according to Williams, half of the money for the project came via a grant from the Illinois Clean Energy Community Foundation. The balance came through a zero-interest loan funded by a $2 clean energy fee that students pay each semester to the Student Sustainability Committee.
The new LED installation offers more than the direct energy savings attributable to lower power luminaires. The incandescent lighting also generated significant heat resulting in greater energy cost for the air conditioning system. And of course LED luminaires will far outlast the legacy lighting reducing maintenance cost.
Equally important, the LED luminaires will add to the allure of the lobby space. Renaissance has installed color-changing luminaires that have the ability to produce 16.5 million colors including white. Moreover, the installation includes the company's Rhapsody Color Management System that will generate lighting effects such as cross fading, rainbow washes, and dynamic changes in color intensity. Each fixture is individually addressable, and a circular array of red, green, and blue LEDs in the fixture produce the dynamic color capability.