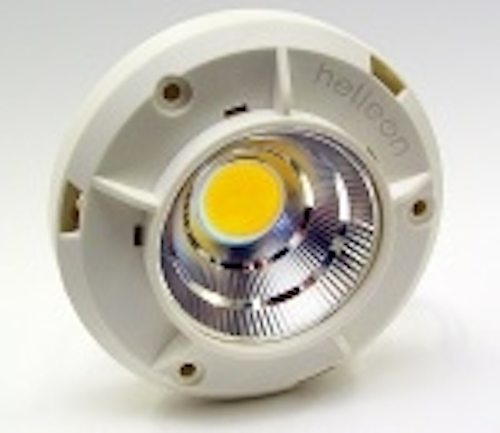 LED chip and array manufacturer Bridgelux has partnered with interconnect specialist Molex to develop the Helieon LED Light Module. The product is targeted at lighting manufacturers and is intended to drive mass-market adoption of LED lighting.
Luminaire designers can use Helieon to develop products in which the LED source can be easily replaced and upgraded, and do so at price points that offer short payback periods for solid-state lighting (SSL) installations.
Helieon is a two-piece design. The light socket or lamp holder is permanently fastened into the luminaire. The light module is inserted into the socket with a push to make the electrical connections and a quarter turn to lock the module in place.
Jason Posselt, VP of marketing at Bridgelux, said, "There are a couple of pain points associated with SSL," specifically cost and ease of use. He noted that customers like the socket and bulb concept, stating, "Helieon delivers a separate source and socket solution."
Mike Picini, vice president of SSL at Molex, stated "We heard it loud and clear from customers that flexibility is an absolute must." Helieon will allow fixtures to be designed independent of the choice of lighting in terms of color temperature, lumen output, and beam.
At launch, the Helieon family includes a choice of 800- or 1200-lm light modules that the companies rate as roughly comparable to 45W and 75W incandescent bulbs. The modules come in a choice of 3000K warm white or 4100K neutral white color temperature choices. And the family includes a choice of 24º, 32º, or 50º beam angles.
The Helieon light module is 80 mm in diameter or just over 3 in. With the light module mated to the socket, the assembly measures 27.6 mm or just over 1 in thick.
In high volumes, the 800-lm modules will cost around $20 while the 1200-lm module will cost around $25. The socket will be in the $2 range. The companies claim that these prices will offer the two-year payback that seems to be the tipping point for the installation of SSL products over legacy technologies.
Note that the pricing does not include the driver electronics. The Helieon concept assumes that the driver would be integrated in the luminaire just as many current light fixtures include a ballast. It would depend on the luminaire design as to whether the driver electronics could be easily removed and upgraded.
The two companies have jointly developed the Helieon technology and brand. And both companies will sell light modules and sockets. Moreover, the companies appear intent on promulgating the technology more broadly. Picini said, "The idea was to drive a new socket into the industry."