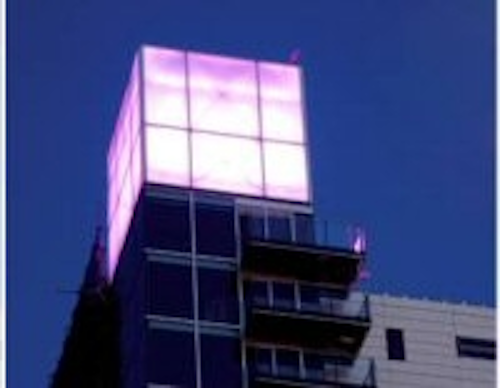 LED fixtures that respond to changes in atmospheric pressure are lighting up the London skyline atop a landmark new residential and retail complex near London Bridge.
The Tabard Square development includes a 22-storey tower of luxury penthouse apartments complete with a glass beacon on the roof.
The beacon is a light-box about two storeys high containing LED fixtures from Color Kinetics, which are controlled by a Pharos Lighting Playback Controller (LPC). Architainment Lighting, the UK distributor for Color Kinetics, supplied 27 Colorcast14 fittings and 36 ColorBlast12 units.
Paul Hamilton, the technical manager for Berkeley Homes explains, "In consultation with the London Borough of Southwark we envisaged this representing a 'beacon of regeneration' for the area as a whole.
"Arup Lighting proposed and designed the barometer scheme and worked with Architainment Lighting to select the fixtures and the Pharos LPC to receive data triggers from the barometer."
The Pharos LPC controls the colour of the beacon depending on atmospheric pressure readings from a digital barometer situated nearby on the roof. These values are interpreted by the Pharos LPC and are mapped to a seasonally adjusted range of colours so it is possible to display the full spectrum throughout the year.
Jeff Shaw of Arup Lighting commented, "Pharos was recommended to us after we had investigated the technical characteristics of the electronic barometer. It was the perfect solution."
The Pharos LPC can receive triggers from many sources, including RS232 Serial protocol, contact closures, MIDI, Audio, Timecode and DMX, as well as its internal astronomical calendar and real time clock.
Nick Archdale, Pharos Technical Director, assisted with programming for the installation. "The triggering aspects of this installation were quite complex as the digital barometer communicated in a specific way. But the powerful triggering and show control functionality within the LPC were up to the challenge."