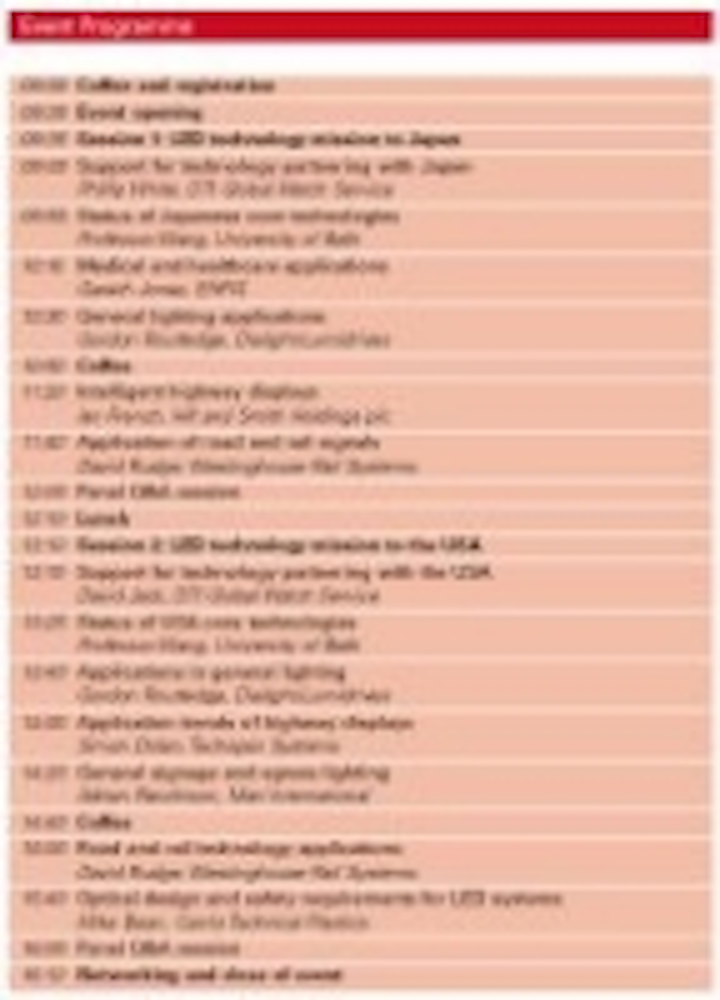 Observations from recent visits to LED manufacturers and other parties in Japan and the USA will be presented at a seminar in mid-May.
The UK's Global Watch Service, part of the Department of Trade and Industry (DTI), is to present findings from its recent "missions" to Japan and the USA. The primary objective was to gain an understanding of the current development of research, supply and demand within the Solid-State Lighting sector.
The missions enabled small groups of experts from the UK to visit leading technology organizations in the two countries. The mission delegation met with companies and institutions currently developing the underpinning LED technologies used in die fabrication, packaging, thermal management, electronic control, wavelength conversion and beam-shaping optics for solid-state lighting applications.
Findings will be presented at a free one-day seminar, "LED Technology: Lessons from Japan and the USA" to be held at the National Motorcycle Museum, Solihull on May 18, 2006. The event follows on from the EuroLEDs" conference at the same venue.
One of the aims of the missions was to identify the current opportunities for LEDs applications in sectors such as: • Road and rail • Displays • Architectural lighting • Signage • Emergency and general lighting
Registration for the event is free and open to anyone working in the UK with an interest in this field – see Global Watch Service - Mission Seminars for more details.