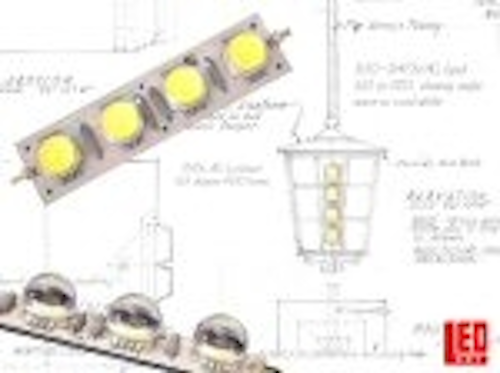 American Bright Optoelectronics has introduced a new LED lighting module powered by a custom AC driver from Lynk Labs (see
Lynk Labs collaborates to promote AC LED applications
).
The BWCL series can accept input AC voltage ranges of 3-1000 volts, and American Bright says this affords the designer the greatest possible freedom to design fixtures bases on desired aesthetics rather than packaging of compatible drivers.
The BWCL series light engine comprises four of American Bright's NovaBrite series LEDs coupled to an innovative sandwich of PCBs. The top layer PCB is standard FR4 material that is bonded to a 2mm thick aluminum heatsink PCB. The individual NovaBrite modules are then mechanically bonded through both the FR4 and the metal-core PCB to ensure maximum thermal conductivity and efficiency.
The modules are available in both warm (2800K CCT) and cool (6500K CCT) white, with the latter capable of an output in excess of 400 lumens. Two different flood-level viewing angles of 60º and 120º are available as standard.
The entire module is only 5.50in long and 1.375in wide, creating a very compact footprint ideally suited for modern and slim-line fixtures. Each end is equipped with a keyed and locking header that allows for the addition of up to five modules per driver. Each BWCL module is provide with the appropriate linking cables to assure compatibility and ease of assembly.
The BWCL series is powered by a custom BriteDriver developed by Lynk Labs. The BDE-60 driver is a patent-pending compact intelligent driver that is compatible with standard commercial dimmers. The driver is housed in a thermally efficient aluminum housing and is completely potted to provide waterproofing. The driver systems are available in 60, 75 and 100-watt configurations to afford designers the maximum flexibility possible.