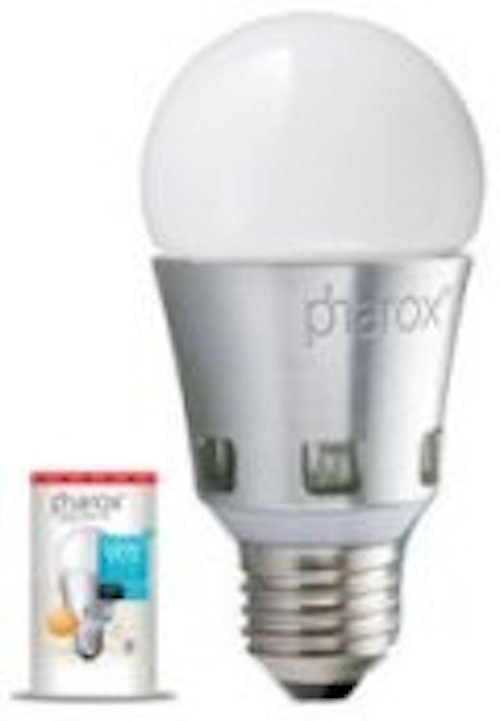 Lemnis Lighting recently announced the consumer launch in the USA of its Pharox60 LED lamp, a 6W product that the company claims is both "the first dimmable LED bulb" and also "the first true replacement for the incandescent bulb" – see
press release
.
Lemnis says that the Pharox60 "features technologically advanced dimming capabilities and a warm, soft glow that sets it apart from previous LED bulbs." The product is a general purpose A-19 lamp with an E26 base, and is already on sale in Europe.
The company claims that the Pharox60 is the first A lamp to have received Lighting Facts approval from the US Department of Energy (DOE), and helpfully shows the Lighting Facts label for its product (see image). The label, obtained through the correct channels (see
Philips makes its own Lighting Facts labels
), shows that the Pharox60 has a light output of 336 lm.
At 6W, the efficacy is 56 lm/W, although the label shows 60 lm/W; it's not clear why. The color temperature is 3000K and the color rendering index is 86, so no doubt this is a nice-looking product.
However, 336 lm is not a lot of light. The implication is that this is a replacement for a 60W incandescent. However, with this level of light output, the comparison only works in certain directional applications. The graphic at right, from the Pharox
website
, shows how the comparison works.
The same website shows that the retail price for Pharox60 is $39.95, although this is a special offer valid until the end of 2009, and the normal price is $49.95. Set against this high initial cost, Lemnis says that "Pharox60 is up to 90% more energy efficient than an incandescent and lasts up to 25 times longer, with an estimated 25-year lifespan. That's six times longer than a CFL."
[We were pleased to see that the New York Times followed up on this LEDs Magazine article with their own article on the Lemnis bulb, several days later, entitled "Lemnis Concedes Bulb Label May Mislead."]
"Our new Pharox60 bulb provides a cost effective way for families in the US to drastically lower their electricity bills while investing in their homes for generations to come," said Warner Philips, Founder of Lemnis Lighting. "The average consumer can earn back their investment in just over three years, or less than one year if you top off electricity from top tier tariffs. If the purchase were financed, the consumer would save cash on day one. Compared to the entry price for solar panels, we feel this is a more accessible energy saving investment."
In certain US and Canadian markets, the Pharox lamp is listed for utility-based incentives and rebates, an example being British Columbia, Canada, where the lamp cost is offset by a CAN $30 rebate from BC Hydro when replacing a 50-100W halogen or incandescent – see BC Hydro website.