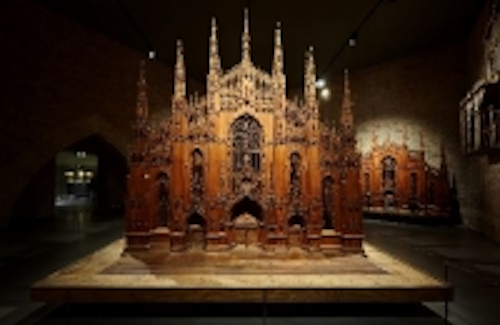 Zumtobel Arcos Xpert LED spotlights have been deployed during the just completed two-year renovation of the Museo del Duomo -- the Museum of the Cathedral located at the Milan Cathedral in Italy. The UV- and IR-free lighting with a CRI of 94 highlights the historic sculptures, paintings, and scale models of the cathedral with the oldest model dating to 1519.
The museum is located in the Palazzo Reale and now has been expanded to occupy 2200 m2 of space divided into 27 rooms and 13 themed areas. The renovation was intended to better present the historical works with glare-free light and in particular to prepare for the expected influx of visitors that will attend Expo 2015 that will run May through October next year.
Zumtobel supplied a variety of lighting products for the renovation including Panos Infinity downlights, Tecton row lighting, and Linaria fixtures in side rooms. But the Arcos fixtures are the primary luminaires that light the exhibits from above.
Related article: Osram LEDs to light the Sistine Chapel's Michelangelo frescoes
The Arcos products feature the ability to adjust color temperature on the fixture. Moreover, the products include optic accessories that can be added to control the beam. The lighting design was optimized to enhance the 3D appearance of works such as sculptures with care taken to avoid hard shadows.
The models of the cathedral are among the most cherished works housed at the museum. The oldest is a walk-in model made of wood built at a scale of 1:20 (shown). Others are made of plaster, bronze, and wood. The lighting on the models was intended to mix light and shadows in a manner that mimics natural daylight.
Related article: Toshiba progresses in Louvre project, lights Mona Lisa with LEDs
It's increasingly clear that LED lighting will become the best choice for museum projects. We recently covered a Philips Lighting LED project at the Rijksmuseum in Amsterdam, the Netherlands.
Early on, museum exhibits directors had interest in LED lighting based on the potential energy savings given that museum lighting systems burn for long hours, and the minimal maintenance requirements. Moreover, the IR- and UV-free properties of LEDs can minimize the damage to works of art attributable to lighting. Now, however, LED lighting has matured to the point that the broad choice of color temperature, higher CRI, and uniform spectral distribution can also improve upon legacy lighting in terms of optimizing the visitor experience.