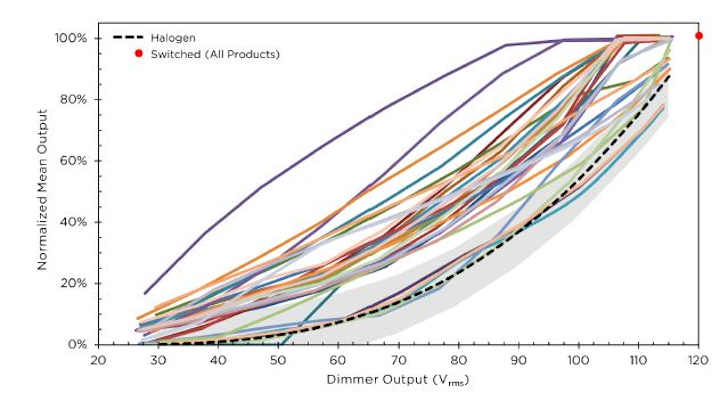 The US Department of Energy (DOE) has published its most recent report on PAR38 lamps, focusing this time on dimming, flicker, and power quality. Testing of 33 LED lamps was performed at full output and various dimming levels. The dimming, flicker, and power quality characteristics were less consistent with LED lamps relative to halogen bulbs. However, at equivalent dimming levels, LED lamps provide substantially higher efficacy as well as more relative light output than the halogen PAR38s.
Related article: DOE publishes new research on LED retrofit lamps, and snapshot on MR16s

Conclusions for the recent report describe the DOE's findings:
When operated by a switch, almost all of the LED PAR38s exhibited less flicker than a magnetically ballasted fluorescent lamp, and more than two-thirds exhibited flicker less than or comparable to that of a halogen lamp.
When dimmed, about half of the lamps exhibited more flicker than a magnetically ballasted fluorescent lamp, and almost all of the LED products exhibited more flicker than a typical halogen lamp.
Most LED products produced more relative light output at a given dimmer level than the benchmark halogen PAR38s.
While all of the LED lamps tested met the current ANSI-defined thresholds for power factor when operated by the switch, nearly one-third had a power factor less than 0.5 at some point over the dimming range, which would not meet the standard.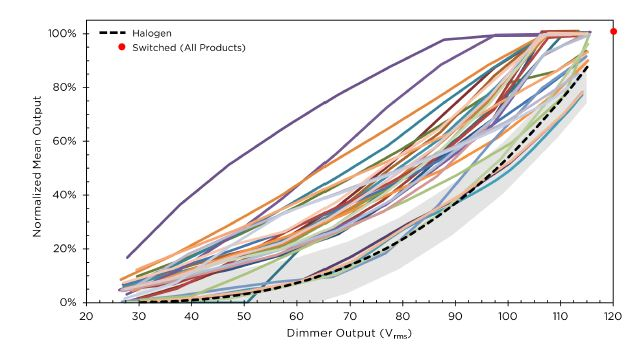 DOE's latest Caliper report evaluates dimming and flicker in PAR38 lamps
Dimming behavior of 31 dimmable PAR38 LED lamps versus halogen.

This report 20.2, benchmarking PAR38 LED lamps versus incumbent technology, is a follow up to Report 20.1. In 20.1, the DOE concluded that all 38 models of PAR38 lamps tested surpass halogen lamps in terms of energy efficiency. Interestingly, some IES members involved in the study found that single emitters performed best.
All the PAR38 reports can be downloaded at http://www1.eere.energy.gov/buildings/ssl/application-par38.html. The DOE has two reports on PAR38 lamps planned for further publication. Of all the replacement bulbs, the DOE has chosen to focus this series on PAR38s due to the popularity of this particular form factor.
Related article: LED lighting progresses driven by lessons learned

Report 20.3 of the PAR38 series will evaluate the results of stress tests on LED-based PAR38 lamps versus conventional products. That report will involve testing LED lamps undergoing substantial temperature and humidity changes, electrical variation, and vibration.
Report 20.4 will look at 40 lamps and their relative ability to maintain lumen output and chromaticity over an extended period of time.