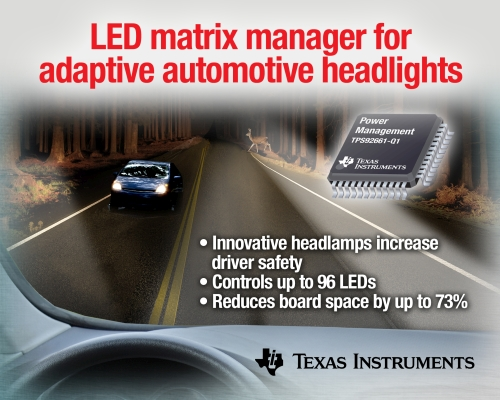 Integrating a 12-switch array that can steer current to different LED strings, the Texas Instruments' TPS92661-Q1 LED Matrix Manager IC significantly reduces the footprint of adaptive automotive headlamp systems.
Texas Instruments (TI) has announced the TPS92661-Qi LED Matrix Manager for automotive headlamp systems. The IC integrates 12 MOSFET switches that are used to steer current through or around multiple LED strings to vary beam patterns and intensity in intelligent and adaptive headlamp systems.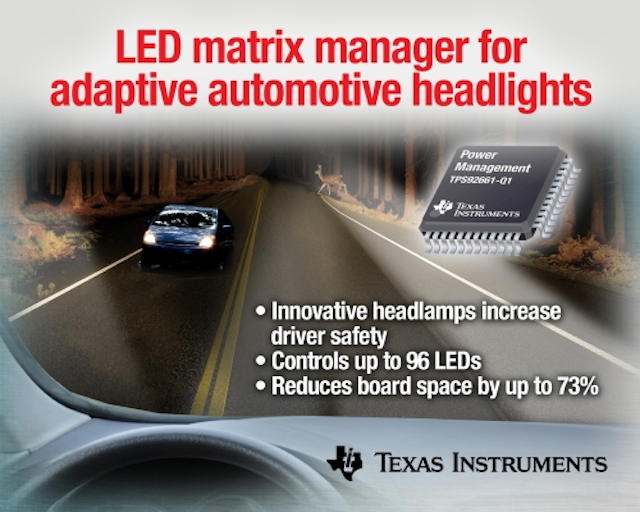 TI adds to automotive LED lighting products, enabling adaptive LED headlamp designs with matrix manager IC
The most widely known implementation of an intelligent and adaptive headlamp system is the Audi Matrix unit announced last year. The system can steer a beam to match corners in the roadway and create notches in the beam to ensure that the beams don't blind drivers of oncoming vehicles. Effectively the technology eliminates the need for a low beam. The system is on production cars in Europe, although for now US standards prohibit such implementations.

Coincidentally or not, TI chose to use the word matrix in the branding of its new IC. The switch array is designed to drive a matrix of LEDs, both switching strings on and off and dimming strings to deliver the adaptive headlamp features. TI says prior to the development of the TPS92661 IC that the switch array would have to be implemented using discrete transistors and other components. The company said the IC would reduce the printed circuit board (PCB) size by 73% in an adaptive headlamp controller.
The IC can drive as many as 96 individual LEDs broken into 12 strings. Each string can be individually controlled including pulse-width modulation (PWM) dimming with 10-bit precision. The IC also includes fail-safe features such as LED open and short detection and protection.
The IC meets the AEC-Q100 Grade 1 specification for automotive-qualified components. It is designed to work with a master microcontroller (MCU) to enable the matrix headlamp functionality. A serial communications port can link the matrix IC to MCUs such as the TI C2000 Picolo series that is also AEC-Q100 qualified.
TI also offers an evaluation module that development teams can use to evaluate the matrix IC and jumpstart headlamp projects. The PCB incudes two strings of 12 LEDs, the switch IC, and a C2000 MCU. Development teams can experiment with dimming and control via included software and develop their own software for new LED-based headlamp designs.