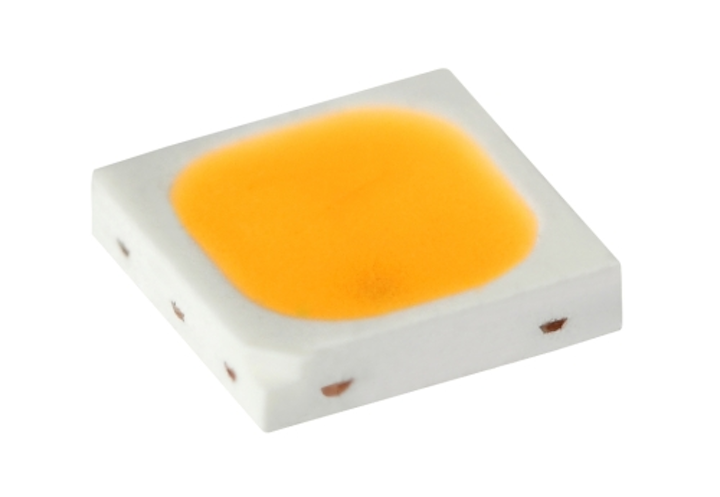 Seoul Semiconductor now has a high-power LED in the 3030 package while Philips Lumileds adds a COB LED with a 6.5-mm LES, Osram Opto Semiconductors expands the 19-mm LES Soleriq offering, and Luminus Devices completes testing of its Xnova packaged LEDs and establishes a five-year warranty.
A number of companies have released new packaged LED products ranging from discrete to chip-on-board (COB) products. Seoul Semiconductor launched a new member of its high-voltage MJT (multi-junction technology) family with the mid-power Acrich MJT 3030. In the COB space, Philips Lumileds has announced a smaller Luxeon 1202 LED for directional lighting applications. Osram Opto Semiconductors expanded its COB line with 80- and 90-CRI LEDs, and Luminus Devices's Xnova family has completed LM-80 testing.
Acrich MJT 3030
The Seoul MJT 3030 outputs 103 lm at 40 mA of drive current, 25°C operating temperature and 3000K CCT. Developers can drive the LEDs at higher power levels, for example achieving 155-lm output at 60 mA.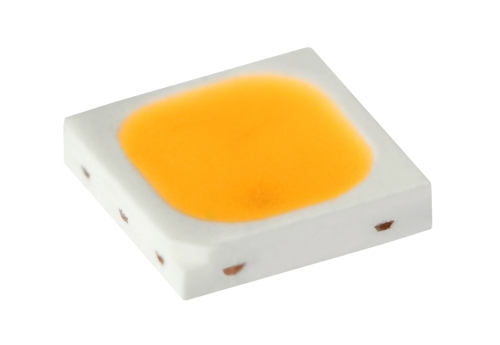 Packaged LED news: Seoul expands MJT family; Philips Lumileds adds COB
Seoul targets the new LEDs at both AC- and DC-driven solid-state lighting (SSL) designs. The MJT technology results in a forward voltage of 22V that can simplify the design of DC driver and also simplify the design of AC-driven light engines as we have covered previously.

The 3×3-mm package of the new LED should prove a popular option in both SSL lamp and luminaire developments. "The new Acrich MJT 3030 LED combines the improved performance and high lumen per dollar with the reliability of the MJT technology, enabling lighting manufacturers to create new, innovative solutions to address a wide range of lighting applications," said Jay Kim, executive vice president of lighting sales.
Lumileds 1202 COB
Lumileds, meanwhile, has added the 1202 COB LED with a 6.5-mm light emitting surface (LES). The target of the design is directional lamps or luminaires with high center beam candle power (CBCP). Such products are regularly used in applications such as retail lighting to highlight merchandise. Ahmed Eweida, product manager for the Luxeon COB line, said that the LED can deliver CBCP of 65,000 cd in a 10° beam.
The product is also available in a CrispWhite version designed to optimize the appearance of both white and colored goods. As we covered previously, the LEDs achieve the performance through a mix of emitters with some near the ultraviolet (UV) range so that the LEDs excite optical brightening agents in paper and textiles.

Lumileds says it is enjoying great success with the CrispWhite technology, although products are just coming on the market. "The response has been tremendous. Shop owners and their customers clearly prefer LED lighting with CrispWhite over CDM [ceramic metal halide] and halogen," said Eric Senders, Lumileds product line director. The company also offers the products in a 2200K CCT for applications such as hospitality in which warm light is desired.
Soleriq S 19
Also in the COB space, Osram Opto Semiconductors has announced new versions of the Soleriq S 19 family. Those LEDs have a 19-mm LES and are targeted at high-lumen applications including retail.
Specifically, Osram has rolled out a broader choice of CRI options in the family. You can now buy 90-CRI versions in 2000-, 3000-, and 5000-lm flux packages. The company notes that the expanded family allows lamp and luminaire vendors to offer more options in end product while using the same optical, thermal, and interconnect support components. The LEDs are available across the range of 2700K to 4000K CCTs and the COBs are compatible with Zhaga Consortium specifications.
Luminus LM-80 test and warranty
Finally, Luminus Devices has announced that the Xnova family of COB LEDs has now undergone 6000 hours of LM-80 testing. That milestone means that products using the LEDs can now achieve Energy Star status. The company also announced a five-year warranty on the products.