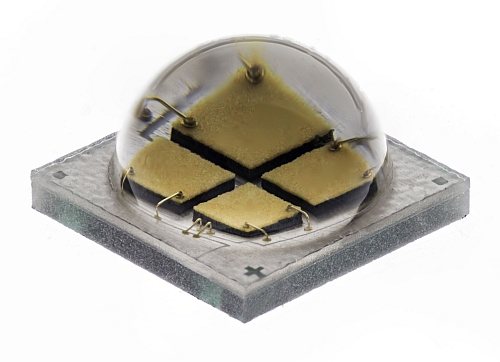 While Lightfair International (LFI) remains predominantly a lighting exhibition, there were plenty of LED light source demonstrations on the show floor as the lighting industry approaches a full transition to solid-state lighting (SSL) in terms of new product development. At LFI 2014 Cree showed its latest multi-emitter packaged LED in the X-Lamp XM-L2. Luminus Devices targeted retail applications with high-CRI LEDs and also previewed a new mid-power architecture called Cube. Philips Lumileds showed its still-to-be-announced Crisp White LED and major lighting companies had new fixtures based on the LED. Samsung, meanwhile, has a Nano LED technology that may be a few years from commercialization, but the technology could change the way we think about white LEDs.
Lumileds Crisp White
Let's start with Lumileds Crisp White chip-on-board (COB) LEDs that target retail applications and better rendition of colors and whites. The company first showed the products at Light+Building (L+B) and our review on that trade fair is live now on our website as part of our June issue of LEDs Magazine. The products mix 3000K and 4000K CCT light to present both whites and colors in the best possible way. The 4000K light allows the eye to perceive bright intense whites while the 3000K light provides a warmer ambience and renders saturated colors in a vivid manner. Philips will also target the technology at food retail applications.
We will have more details in the coming days when Lumileds does a formal press release. Pierre-Yves Lesaicherre, CEO of Philips Lumileds, said that the company's new policy is not to issue a formal press release and full product details until an LED is on the shelf at stocking distributors such as Mouser and Digi-Key. Evidently that level of availability is a week or two away.
Still, Philips Lighting had Crisp White-based Fortimo modules and lighting products on display. Moreover, Amerlux demonstrated a family of downlights based on the technology so clearly the technology is already in the hands of some lighting manufacturers.
Cree XM-L2
Leading into LFI, Cree had announced the XM-L2 family of EasyWhite LEDs that can produce more than 1100 lm from a 5×5-mm package. The LED combines four emitters and is offered in versions with a forward voltage of 6V or 12V. The company said that the LEDs offer a 38% gain in performance relative to first-generation XM-L devices.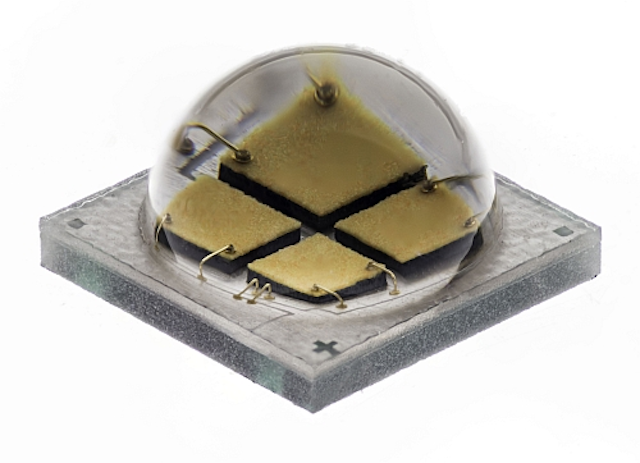 LEDs at Lightfair: Cree, Luminus Devices, Philips Lumileds, and Samsung
The EasyWhite brand implies that Cree can mix the CCT of the individual chips used in XM-L2 LEDs and ensure very tight color consistency. Indeed, the LEDs are offered within a two-step MacAdam ellipse bin. Cree targets replacement of 50W halogen sources with the LEDs for retail, museum, and hospitality applications.
Luminus AccuWhite LEDs
The new direction of Luminus Devices was fully evident at LFI with mid-power and COB LEDs on display that are based on chips from parent company Sanan. New Luminus executive vice president of sales and marketing Jim Miller said the company is uniquely positioned to become a top-three supplier of packaged LEDs into lighting as Sanan moves toward becoming the largest maker of LED chips in terms of volume.
The Xnova COB offering is especially of near-term interest as the company has chosen to target high-performance applications such as retail. The AccuWhite Xnova COB LEDs deliver CRI of 95, and scores of 90 or above across the individual color samples that comprise the complete set or CRI color samples including the R9 red value.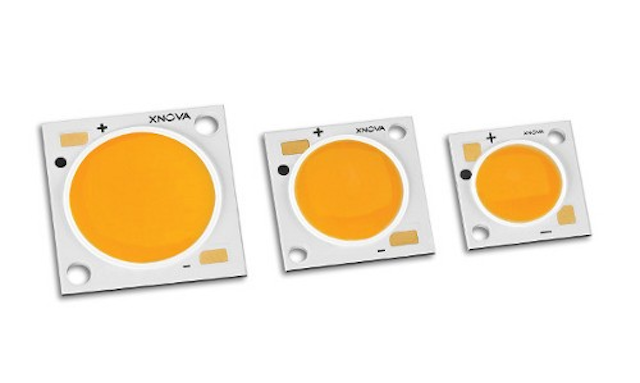 Luminus also offers a version of the Xnova LEDs with performance targeted below the black-body curve on a color chart. The intent is somewhat akin to what Xicato has done in its Vibrant family of modules that we covered in a recent feature article. The color targeting results in a low CRI but more vivid rendering of saturated colors. Remember that CRI can penalize a light source that results in oversaturation even though that may be a desired trait in some applications such as retail.
In the mid-power space, Luminus demonstrated a new architecture called Cube that is not formally due to market until this fall. The design looks much like the mid-power flip-chip LEDs that Samsung initially announced at Strategies in Light earlier this year. In our previously mentioned L+B report we covered a number of other companies that have announced similar products.
The Luminus Cube, however, is not a flip-chip design but a more traditional LED chip with a minimal epoxy-molded compound (EMC) substrate under the chip. Still, Miller said the design will allow low-cost application of a phosphor sheet at the wafer level, although it's not clear how that will work with the need for bond wires to the top side of the chip. But the Cube will be more easily handled by lamp or luminaire manufacturers, in terms of printed-circuit-board assembly, than the true chip-scale packages. We will bring you more details on the Cube later in the year.
Samsung Nano LED
We will close with a much more forward technology look but one that is potentially very exciting. Samsung had an animated presentation of an architecture called Nano LED. Presumably, the technology will yield a monolithic LED chip that can output red, green, and blue light simultaneously. The result is a mix that appears white with no phosphor required.
The Nano LED will use a traditional substrate. But during the epitaxial stage of manufacturing, nano techniques will be applied to different areas of the LED chip to allow the growth of the distinct color areas. Many questions remain to be answered for sure. But an architecture that delivers white light with no phosphor could lead to lower-cost LEDs and probably new applications in tunable SSL.