Milwaukee Arts Center shines anew with LED lighting from Philips
Light and art converge in the newly illuminated face of the Marcus Center for the Performing Arts.
Apr 24th, 2008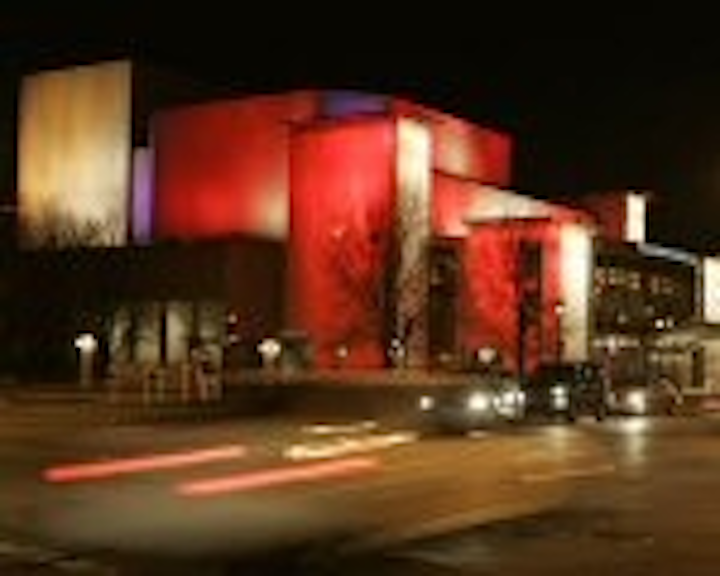 The Marcus Center for the Performing Arts in Milwaukee, WI, has transformed its classic exterior by using LED lighting technology from Color Kinetics (now Philips Solid-State Lighting Solutions). The building's exterior, shining with approximately 900 LED-based lighting fixtures, was unveiled to the public last week.
The fixtures illuminate all sides of the building, and each fixture can be digitally programmed to produce millions of colors and color-changing effects without the cumbersome use of gels, filters and mechanical color scrollers.
Conceptualized by Paul Gregory of Focus Lighting Inc., the lighting scheme is intended to mimic the beauty found in nature, incorporating the colors of famed local artist Georgia O'Keefe's work. Gregory and team were able to design a series of "light paintings" that bathe the building in softly blended color combinations at various kinetic speeds.
"Light plays a large role in creating not only a better lit environment, but also aesthetically pleasing spaces which enhance the quality of our lives," said Gregory. "We accounted for the strengths of the building and the architect's original vision to create a work of 'light art' that mirrors the creativity of the performing arts."
The combination of digital control technology with LED sources has enabled completely new uses of light that can visually alter an entire building with the simple push of a button. At the same time, the inherently durable, long-lasting and low-energy nature of LED sources allows facility owners to keep maintenance and energy consumption to a minimum for truly sustainable design.
Paul Mathews, the Center's president, said: "Not only have we been given a new face, but one that can be aesthetically tuned through color and light to coincide with performances, holidays and other special occasions."
Funding was led by the Milwaukee-based Argosy Foundation.