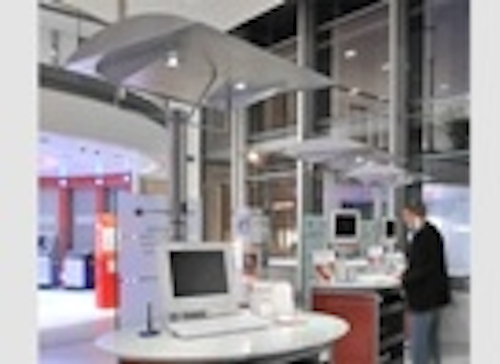 The Sparkasse Lemgo (Lemgo Savings Bank) has recently transformed its Hohenhausen, Germany, branch with Zumtobel LED-based luminaires. The bank wanted a lighting solution that addressed not only economics, but also better design. In comparison with the previous lighting system, operating costs may be reduced by ~70%.
In the entrance area, customers are welcomed by a dynamic lighting scenario in variable colors. High-quality background lighting of at least 300 lux is imperative in this zone, because cashpoint and service machines have to be properly illuminated.
The new Tempura LED downlights provide efficient and flexible ambient lighting and can render different color temperatures. Various lighting scenarios can be programmed — depending of the time of day — by means of the Luxmate Emotion lighting management system.
The dimensions of the previous luminaires in the information and waiting areas were adopted for a special module fitted with one Tempura LED downlight and two swiveling Panos downlights.
The aim for the strongroom zone was to visually enhance it by means of a new lighting design. In order to add visual appeal and highlight the way to the strongroom, Ledos recessed luminaires with LEDs in variable colors were integrated into the floor. A dynamic brightness sequence was configured via the lighting control system.
2-Light recessed miniature downlights have been integrated into the strongroom, fitted with two separately controlled LEDs. In this way, the white direct light is amplified by ambience light in variable colors. All areas are controlled by the Luxmate Emotion lighting management system.
The Luxmate Professional control system by Zumtobel ensures that the creation of daylight-based lighting scenes is an uncomplicated procedure. It is also possible to implement a presence-based control system and to pre-program a variety of lighting scenes. The newly designed lighting solution in the Sparkasse combines lighting quality with energy efficiency.