Philips' LED lights showcase future of home lighting at New York museum
From July 20 to October 20, an experimental house at the Museum of Modern Art features LED lighting from Philips Color Kinetics.
Oct 13th, 2008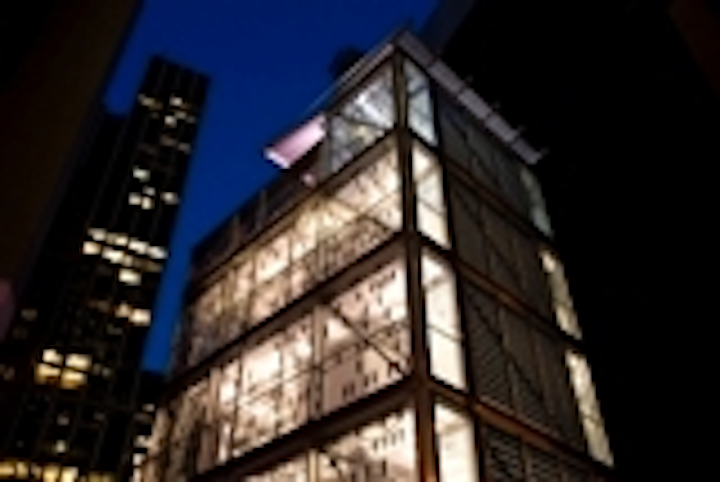 Philips' solid-state lighting technology has become a part of a futuristic house at New York City's The Museum of Modern Art, on display until October 20. As part of the Home Delivery, Fabricating the Modern Dwelling exhibit, Cellophane House is a five-story, fully transparent and sustainable house illuminated solely by LED sources to show the future possibilities of residential lighting.
Home Delivery is a two-part exhibition on the historical and contemporary significance of factory-produced architecture. It includes five full-scale houses, one of which is Cellophane House, in the outdoor space west of the Museum. Designed by KieranTimberlake Associates, this house features a translucent architectural envelope that collects solar energy through integrated photovoltaic panels, and demonstrates the use of embedded light as an element of architecture itself.
"Cellophane House perfectly demonstrates the future direction of lighting; freed from the limitations posed by typical fixture size, shape and heat emission. With LED sources, we were able to create luminous surfaces that emphasize the house's translucency and architectural features in various intensities and colors," said Brian Stacy of Arup Lighting. "Most importantly, we were able to achieve the desired effect in a sustainable and energy-efficient way."
The structure's entire LED lighting installation consumes just 1.3 W of energy per square foot, compared with the average house of about 1.7 to 2.3 W per square foot, including plug loads for the average house.
"The opportunity to replace conventional sources with energy-efficient LED lighting continues to grow, yet just as exciting is the potential to encourage completely new methods of lighting," said Jeff Cassis, CEO, Philips Color Kinetics.
Unique applications of Philips' LED lighting at Cellophane House include using the eW Cove Powercore to uplight the translucent floors and to make a staircase glow. Also, eW MR lamps were used in place of conventional sources commonly used for recessed downlighting and ColorBlast® 12 uplit the roof deck canopy to bring dynamic color and a visual counterpoint to the house.
"In a typical house, all wiring and mechanical systems are hidden behind dry wall - an impossibility in a house made of transparent and translucent materials. Because LED systems are compact and free of heat emission, they can be concealed in tight spaces where conventional lights are impractical," Stacy said.