LEDs go with the flow in New York City waterfalls
A series of man-made waterfalls installed around New York Harbor were lit using LED lighting fixtures to simulate the effect of moonlight on the water.
Oct 30th, 2008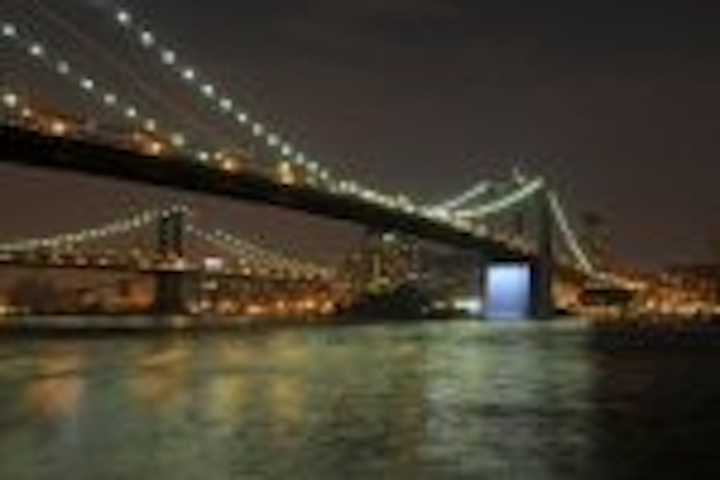 The New York City Waterfalls public art installation, by artist Olafur Eliasson, comprised four man-made waterfalls in the New York Harbor situated along the shorelines of Lower Manhattan, Brooklyn and Governors Island. One of the key features of the waterfalls was their use of LED lighting behind the water flow to simulate the effect of moonlight.
The Waterfalls ranged from 90 to 120-feet tall and were on view from June 26 through October 13, 2008. The project was commissioned by the non-profit Public Art Fund in collaboration with the City of New York.
Each waterfall pumped 35,000 gallons of water per minute from the East River to the top of a scaffold. As the water flowed over the lip of the falls it was illuminated by LED fixtures.
Each waterfall utilized a continuous row of assembled 5 feet sections of LED fixtures, supplied by Boca Flasher Inc, with a mixture of cool and warm white LEDs controlled by 3 separate channels. The total wattage was 300W per 5 ft. section at 100% output, while the actual operating load was 15-25%, depending on the site.
Light from the LED fixtures grazed the back of the water, penetrating the flow and accentuating the effect of wind gusts and changes in water flow rate. A custom baffle just below the LED source prevented glare at normal viewing angles.
The Lighting Designer for the project was Michael Mehl of Jaros, Baum & Bolles. "Working with LEDs offered us very interesting possibilities both technically and aesthetically in realizing Eliasson's artistic vision," he said.
Some immediate concerns over the use of LEDs, such as color rendering and heat dissipation, were overcome by the nature of the exterior environment in this project, said Mehl. "Unlike prior projects we have worked on, LEDs were not initially chosen for their promise of extended life, since the project had a limited installation period of only four months of operation," he added.
Hiding the source was the biggest challenge, so that the water would appear as if lit by moonlight. "The size-to-light output ratio of the LEDs favored them over conventional lamp sources," said Mehl. "We focused our design attention on the caveats of the technology, such as lamp-to-lamp color consistency and optics."
The designer also believes that a critical component to using LEDs, beyond the specific source, is the choice of manufacturer. "Architects and lighting designers should choose a manufacturer who understands the technology and can aide the design process considerably. Since LEDs are a compilation of components, the best friend the lighting consultant can have with the burgeoning technology is to work with a manufacturer who understand the nuances of LEDs and can integrate ever-evolving aspects of the technology, while delivering on the conventional design process of conception through installation."