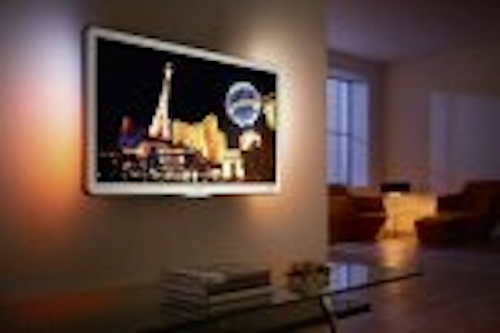 Philips and Sony both unveiled new LCD televisions that use LED backlights at IFA, a major consumer electronic show held in Berlin, Germany on August 29 - September 3.
Both companies had new TVs that used the LED backlights to achieve local dimming, while Sony also had a 40-inch LCD TV with LED edge-lighting – almost certainly a first.
Philips introduces LED LUX
The new 42PFL9803 FlatTV from Philips won the "European LCD-TV 2008-2009" award from the European Imaging and Sound Association (EISA). According to Philips, its 42-inch set "delivers levels of contrast and motion smoothness never achieved by an LCD before."
In its official citation, the EISA judging panel said, "The new 42PFL9803 solves two of the most critical challenges in current LCD TV technology: black level and motion blur. Thanks to its genius LED backlight, featuring 2D Dimming control over 128 individual areas, the 42PFL9803's black level can now compete with the best plasma TV sets. The Clear LCD 100Hz technology, meanwhile, reproduces crystal-pure images that are also naturally fluid thanks to Philips's extremely sophisticated motion compensation algorithm."
The 42PFL9803 is the first LCD TV to feature Philips' "LED LUX" local dimming backlight technology. Local dimming requires the distribution of LEDs across the backplane of the LCD. Unlike a conventional CCFL backlight that can be either on or off, each LED pixel can be individually dimmed to correspond to the brightness of the image.
The amount of dimming required by each LED is continuously calculated and re-calculated to accurately reproduce the image. Effectively, because there is no light leakage, the dark parts of an image become darker and the bright parts become brighter delivering dramatically superior contrast and deep black levels. Philips is claiming an astonishingly high 2,000,000:1 dynamic contrast ratio.
The LED LUX system comprises a total of 1,152 RGB LEDs, split into 128 segments. Each of the 8 rows contains 16 segments, with 9 LEDs in each segment. These LEDs can be individually dimmed to precisely control the output of each pixel. So, even if a segment contains both bright and dark portions, the pixel values of the dark portions can be dimmed to deliver optimum contrast performance.
The set also has the Ambilight Spectra 2 technology, which identifies dominant on-screen colors and then uses LED lighting to generate accurately-matched ambient lighting from both sides of the screen onto a rear wall.
Sony has the edge
Sony's new Bravia KDL-55X4500 is a 55-inch 1080p Full HD TV that uses local dimming of the RGB dynamic LED backlight to achieve a contrast ratio of over 1,000,000:1. The arrangement of the LEDs is likely to be broadly similar to the Philips TV i.e. multiple RGB devices distributed across the backplane.
Using a completely different approach to LED backlighting, the new ZX1 Series is a 40-inch display that is only 9.9mm thick at its slimmest point. As with ultra-thin notebook computers such as the
MacBook Air
, the secret is edge-lighting using white LEDs.
White LED edge-lighting is used in smaller LCD screens, from mobile phones all the way through to notebooks and some smaller monitors. But we're not aware of any screen this large that has used this technology. One major problem is that when the light sources are at the edges of the screen, it is difficult to achieve sufficiently high brightness and uniformity across the entire display.
As you can see from this YouTube clip, Sony has clearly solved this problem.