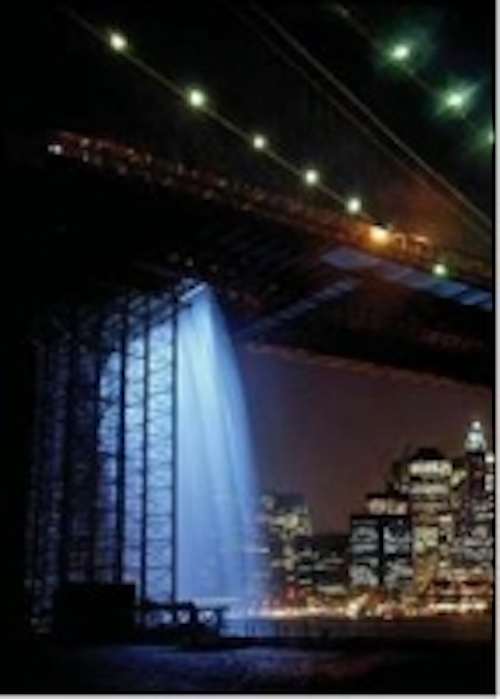 LEDs go with the flow in New York City waterfalls
The New York City Waterfalls public art installation, by artist Olafur Eliasson, comprises four man-made waterfalls in the New York Harbor situated along the shorelines of Lower Manhattan, Brooklyn and Governors Island. One of the key features of the waterfalls is their use of LED lighting behind the water flow to simulate the effect of moonlight. The Waterfalls range from 90 to 120-feet tall and were on view from June 26 through October 13, 2008. The project was commissioned by the non-profit Public Art Fund in collaboration with the City of New York. The lighting designer for the project was Michael Mehl of Jaros, Baum & Bolles. "Working with LEDs offered us very interesting possibilities both technically and aesthetically in realizing Eliasson's artistic vision," he said.
Also:
• G-LEC develops media façade for BMW Museum
• Curved arena façade engineered with LEDs
+++++++
This article was published in the November/December 2008 issue of LEDs Magazine.
To read the full version of this article, please visit our Magazine page, where you can download FREE electronic PDF versions of all issues of LEDs Magazine.
You can also request a print copy of LEDs Magazine (available by paid subscription) and sign up for our free weekly email newsletter.