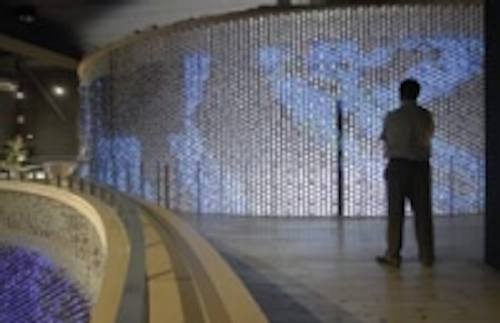 Until September 14, the Expo Zaragoza 2008, Saragossa, Spain, will showcase the regional Castilla y Leon Pavillion, with a large room-size LED display by Spanish lighting company Indal. This pavilion is among hundreds of country and province displays at the show on the themes of water and sustainable development.
Indal's Optical Systems Department was in charge of the lighting, apart from some installations and infrastructures, for this 375 sq.m. pavilion. The company says it "combines modernity, innovation, openness and natural richness in a single creation with the Duero River, a river in the Castilla y Leon region, being the focal point."
In order to maximize volume of the pavillion, bottles were used. Indal said the aim of the lighting was to create an environment that differentiates itself from the other pavilions and surprises the visitor from the first minute of entry.
To achieve maximum impact, the company decided the lighting had to emerge from the pavilion walls using LEDs. The structure consists of three wooden walls in the shape of a wine rack holding 30,370 transparent light reserve Bordeaux-shaped bottles. Because these walls had to provide all the pavilion lighting, an RGB LED had to be placed inside each bottle.
Individual control of each LED was necessary so that light messages could be projected on the wine rack walls. The installation walls were placed in the middle of the pavilion to generate several environments. Thus, the electrical installation had to be approved by the project manager since it was an integral part of the pavilion's main structure.
To connect the LEDs together, Indal created a cable mesh to be attached to the wine rack together with some electronic control systems specially designed for the occasion (each bottle has a connector). Thus, 58,368 independent light points were installed inside the bottles, or, in other words, 19,456 tricolor LEDs. Through this number, each bottle is capable of generating 16,777 million possible colors.
The total power consumption is 3.8 kWh; each tricolor LED uses 0.2 W. In addition, there are 23,000 corks and 38 bidimensional meshes, formed by 60,000 meters of cable with 40,000 connectors and the corresponding control elements, courtesy of collaborators Hardtronic S.L., Cabling System Valladolid S.L. (CableVall) and Berlá.