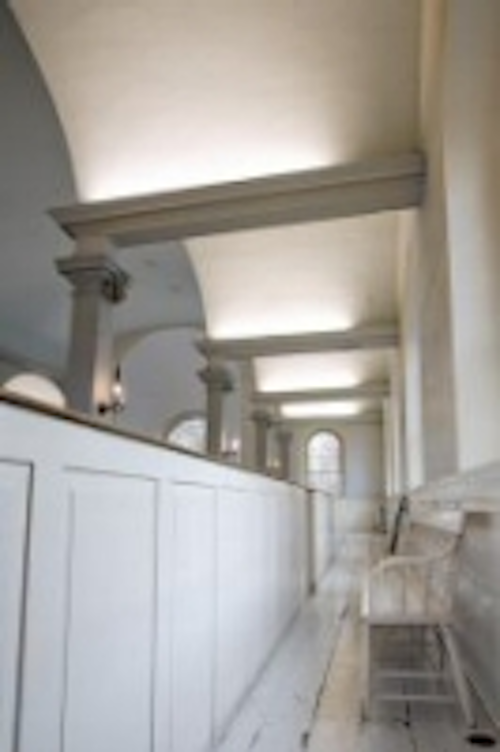 LED lighting from Philips Solid-State Lighting Solutions (formerly Color Kinetics) has been used as part of the interior lighting "makeover" of the Old North Church, an historic landmark in Boston that was pivotal to Paul Revere's famous midnight ride.
As part of on-going refurbishment, the 285 year-old church sought a sustainable and low-maintenance light source to replace the dated, linear incandescent tube system lining 18 interior niches. Boston lighting designer Lana Nathe of Light Insight conceptualized the lighting scheme and was aided by Boston Light Source, who donated the product.
Nathe specified Philips eWT Cove Powercore - a low-profile, linear LED fixture that delivers 5X the efficiency of common incandescent click-strip lighting. It boasts a projected lifetime of 50,000 hours, compared with the 1,000 - 2,000 hours of the previous source, and is expected to cut energy consumption by nearly 85%.
"By incorporating warm white LED lighting, we can better showcase the charm of the architectural details of this classic structure that plays an integral role in the birth of our nation," said Nathe. "We were able to achieve precisely the right visual impact while creating an energy-efficient and sustainable design for the future. We did not have to sacrifice on quality of light to conserve energy - a true testament to how far LED sources have advanced."
Approximately 130 eW Cove Powercore units were installed along interior niches of the church's upper gallery casting a warm white glow and accentuating the historic arches and moldings. Each 8-foot run of eW Cove Powercore consumes just 40 watts of energy, compared to the 240 watts consumed by each 8-foot run of the previous incandescent system.
The fixtures incorporate proprietary power management and dimming technologies, which translate to greater operational efficiency and ease of use. They are capable of smooth dimming via the church's existing ELV-type dimmers, and their low profile and simple line-power installation allows them to fit within the narrow alcoves where light sources that require ballasts, transformers and other auxiliary equipment could not.